Having a ball - China style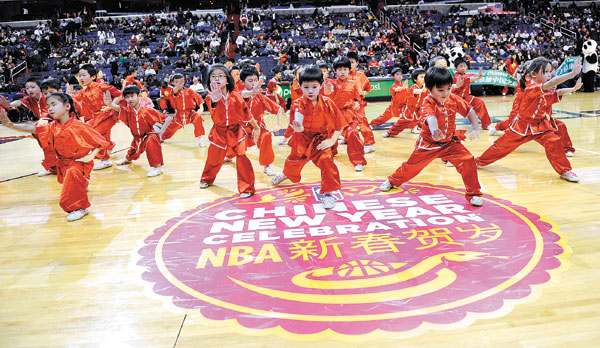 Chinese children perform kung fu in celebration of Chinese New Year before a game between the Washington Wizards and the Brooklyn Nets on Feb 8 in Washington. [Photo / Xinhua]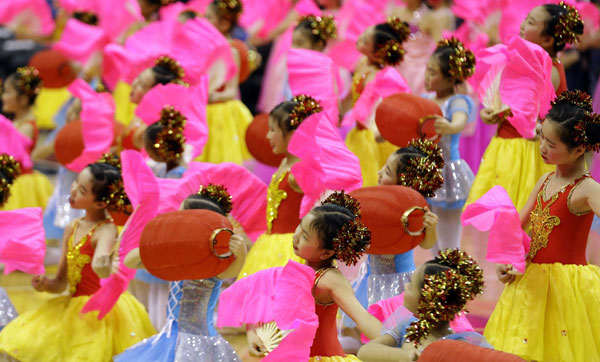 Dancers from the Jin Ling Dance School perform in celebration of Chinese New Year before an NBA game between the Washington Wizards and the Brooklyn Nets. [Photo/Agencies]
The pragmatic NBA has its sights firmly set on its top overseas market and recognizing Chinese New Year is shaping up as a masterful move, Chen Xiangfeng reports.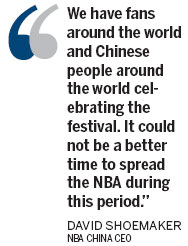 China boasts one of the world's richest cultures, and the ultra-pragmatic NBA is looking to move in on the great basketball market. The world's leading basketball league staged a Chinese New Year Celebration campaign during the annual break which featured a series of events and broadcasts in China as well as Chinese New Year-themed celebrations in the United States. They were designed to pay tribute to not only the fans in China but also Chinese communities around the globe. Along with those events, the league also launched robust player-fan engagement across other platforms including sweepstakes, Chinese New Year greetings from players and fan messages on NBA media platforms.
"Chinese New Year is a special time for us. Fans come home and stay with their family and friends. We think it's the great time to share basketball with them," said NBA China CEO David Shoemaker. "NBA is global and Chinese New Year is also not just about China. We have fans around the world and Chinese people around the world celebrating the festival. It could not be a better time to spread the NBA during this period."
During this "China Week" in the NBA, American fans saw their favorite players wearing specially-designed Chinese New Year shirts sending Year of the Snake greetings. The festival was also celebrated in NBA arenas with kung fu shows and lion dance performances during halftime of games.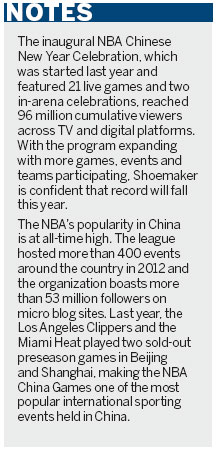 Those were held at the home arenas of the Washington Wizards, Toronto Raptors, Chicago Bulls and Golden State Warriors. Two additional venues had signage recognizing the holiday.
Additionally, a video of Chinese New Year celebrations will be displayed on the jumbotron during Monday's (Beijing time) All-Star Game.
"Twenty-three NBA games were broadcast live during the New Year. It's a tremendous celebration of the New Year as well as basketball," said Shoemaker.
The campaign certainly had an impact during Chinese New Year as fans flocked to a NBA viewing party in Beijing and gathered around their TVs to watch games on CCTV 5.
"You have never seen Chinese fans celebrate Spring Festival this way, have you?" said Wang Meng, a 20-year-old university student, who participated in the NBA Chinese New Year viewing party in Beijing. "We traditionally stay at home and spend time with family, but having this cool basketball element makes the family reunion even better. The Chinese New Year program has given us the opportunity to enjoy the game of basketball with our families and friends it is just awesome."
The differences between Chinese and US fans have traditionally been stark, but after years of sharing common sporting bonds, the only difference now is the language in which they cheer for their favorite teams.
"We are approaching a unique sporting moment. People in the US and China are paying close attention to this Chinese New Year. They are tuning in to see what the two nations have in common - and that is a shared passion for basketball," Wang said.
To further get a taste of Chinese culture, Shoemaker and former NBA star Peja Stojakovic, who was born in the Year of Snake, visited a Chinese fan's home and cooked a traditional dinner.
"It's a great and interesting experience for me to be in China and spend the New Year. Chinese people are so nice and they made us feel comfortable," said Stojakovic.
Stojakovic and Shoemaker made Chinese paper cuttings and even dumplings. The sharp shooter also celebrated his zodiac animal year with 500 fans at the NBA viewing party in Beijing with WNBA player and WCBA championship winner Maya Moore, who was also born in the Year of the Snake.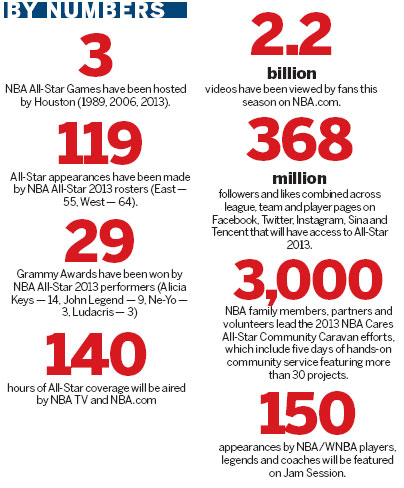 Most Popular
Highlights
What's Hot