MELBOURNE - The Australian Open offered a glimpse of what could become the rivalry of the future as American Sloane Stephens beat Britain's Laura Robson in a third-round battle on Saturday.
The two teenagers battled it out in front of a raucous crowd, with 29th seed Stephens eventually coming through 7-5 6-3 to take her place in the last 16.
The match was played on Show Court 2, only the fourth biggest court at Melbourne Park, and Stephens said she thought the pair were destined for bigger stages soon.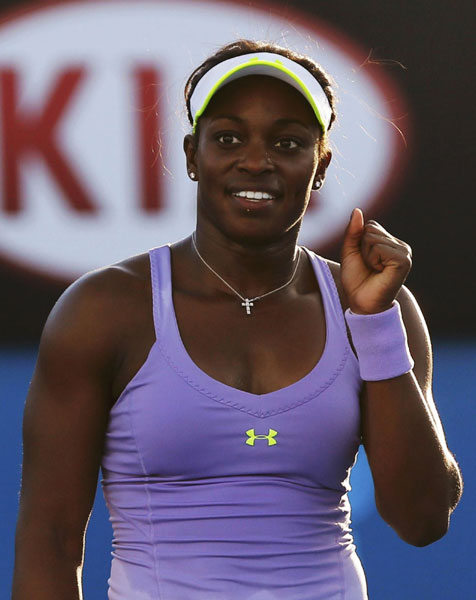 Sloane Stephens of the US celebrates defeating Laura Robson of Britain during their women's singles match at the Australian Open tennis tournament in Melbourne January 19, 2013.
"We're turning into the Fed-Nadal rivalry," said Stephens, who now plays Bojana Jovanovski of Serbia or 42-year-old Kimiko Date-Krumm of Japan in the fourth round.
"When I saw the court, I was like, 'wow, really, we're on this court?' I mean, it is what it is (but) I don't think we'll play that court ever again."
Robson has been tipped for the top ever since she won junior Wimbledon in 2008 while Serena Williams has said that Stephens has what it takes to become the best in the world.
"Whenever we play, we have good matches so it could be (a big rivalry)," she said. "It's obviously going to take a while (but) the matches are good. So we'll see."
The American turns 20 in March while Robson, who beat eighth seed Petra Kvitova in round two, is 19 next week.
The pair have known each other since their early junior days and their mothers are such close friends that they were even in touch straight after Saturday's match.
"Right after I got off the court, my Mum texted me and she was like: 'great job, good fight.' And she said, Cathy says, great job and good luck in the next round. That's Laura's mom.
"Laura and I are good friends. She's obviously a good player. We're going to have a rivalry, all that good stuff."
The left-handed Robson, whose performance was affected by pain in her serving shoulder, praised the American's performance.
"I thought Sloane played very well today," she said. "I'm sure I'll play Sloane a lot in the future. I think after today she's going to be top 20, so good for her."
Getting closer
Stephens also beat Robson last week in the WTA event in Hobart but Robson, who did most of the attacking, said she felt like she was getting closer.
"I thought there were a fair number of long rallies today which there weren't in Hobart, so that's probably a good thing. I thought we both played a bit better than we did last week."
Stephens said she was settling into life at the top level of the Tour but warned there was plenty more to come from her this year.
"Honestly I haven't played my best tennis," she said.
"Sometimes it's just going to be like that. Sometimes it's going to be ugly and you just have to work your way through.
"It hasn't been the prettiest, but mentally it's been beautiful."
Robson, who made the last 16 at the US Open last September, said she had plenty to build on from her performance in Melbourne.
"Last year I lost here 6-2 6-0 first round," she said. "It's a massive improvement.
"There are still so many things that can be worked on but I toughed out two wins and today I thought Sloane played pretty well. So it was still a pretty good tournament."