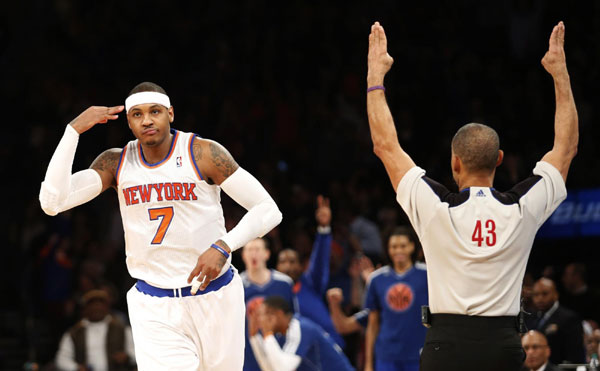 New York Knicks forward Carmelo Anthony (7) gestures after hitting a three-pointer against the Los Angeles Lakers in the first quarter of their NBA basketball game in New York December 13, 2012.  [Photo/Agencies]
Carmelo Anthony had another MVP-esque game on Thursday night, scoring 30 points in less than 23 minutes, as Knicks stayed perfect at home (9-0) after beating the visiting Lakers, 116-107.
But what the Knicks fans are more concerned about is his health status, as the Knicks star sprained his ankle with less than 7 minutes left in the third quarter and never returned.
Anthony landed awkwardly on his left foot after a mid-air collision with Dwight Howard of the Lakers when he was going at the rim. He was then pulled out of the game for further treatment.
He is now listed as day-to-day, according to Mike Woodson, Knicks' head coach.
"It is a slight sprain. We just got to take a day at a time and see what happens."
Kobe Bryant, the league's leading scorer (29.2), had 31 points for the Lakers, who went 1-11 when he scored 30 or more points this season. Metta World Peace and Dwight Howard chipped in with 23 and 20 points, respectively.
The Knicks were off to a sizzling start, scoring a season-high 41 points, 22 of which were by Anthony, in the first quarter. Their perimeter jumpers kept falling while their opponent struggled with their shots on the other end.
"Carmelo was unbelievable in the first quarter. When he scores like that, that is Melo," said Mike D'Antoni, Lakers' head coach. "We had troubles in pick-and-rolls and Melo...They are a hard team to guard."
The Lakers, trailing 68-49 at halftime, picked up its offense in the second half. Bryant had a strong third quarter, with 11 points, and World Peace got 10 in the fourth.
The deficit was once cut to 7 when Bryant hit a tough 3-pointer with 4:47 to go. But JR Smith and Tyson Chandler were able to answer back with a trey and a dunk, and the Knicks sustained the rally by the road team.
Lakers (9-14) now rank 12th in the Western Conference. They are 4-9 since D'Antoni, who resigned as the Knicks head coach in March, took over the star-studded team on Nov 15, which failed to live up to the expectation of many. But the coach is not supposed to take the blame, said Bryant.
"It is not fair…It has been a huge adjustment for all of us," said the 34-year-old guard. "We have some figuring-out to do. We have some key pieces that are out. When they come back, we'll get this thing locked and loaded and make some adjustments."
He was referring to power forward Pau Gasol and point guard Steve Nash. Gasol has missed the last six games with tendinitis in his knees and remains day-to-day, while Nash has played since fracturing his left leg on Oct 31.
Lakers and Knicks are scheduled for another face-off on Christmas Day in Los Angeles.