Six days after capturing the Dubai Ladies Masters for her sixth victory of the year, Feng Shanshan insists there's no pressure on her to follow it up with a win at this weekend's Hyundai China Ladies Open.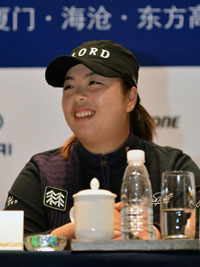 Feng Shanshan
Yet, with the national championship teeing off in Fujian province on Friday morning, all eyes will be on the world No 5 as she attempts to become the first Chinese to win the $400,000 tournament in its seven-year history.
"I just want say it's great to come back home. I will try to play every shot as best as possible. I hope that you all put no pressure on me," a smiling Feng told a large media gathering at the Orient Xiamen Golf Club on Thursday.
"I used to play poorly immediately after a win. I felt impatience and demanded too much out of myself during the competition thje next week. So this week, I won't put added pressure on me."
After finishing second last year in Xiamen, the best finish ever by a Chinese player at the championship, the 23-year-old Guangdong native has had a career-best year with three wins in Japan, two on the Ladies European Tour, and one in the US at the Wegmans LPGA Championship, the first Major title won by a Chinese mainland player.
"I would rate this year as 90 out of 100 points. Why not 100 points? I think I can build on this and improve myself in the future. This is not my highest zenith," said Feng, who noted her favorite win to date was in March when she captured the World Ladies Championship in Hainan Island for her first win in China since turning pro.
"Next year, my goal is to catch up with Tseng Yani. Since 13, 14-years-old, the first time I met Yani, she is the one that I try to catch. The gap between us is closer and closer. Now I am world No 5, but she hasn't slowed down. She's still No 1."
In the final leg of the 2012 China LPGA Tour season, a co-sanctioned event with the LPGA Tour of Korea, the China No 1 will be up against an international field that includes 50 Koreans who have dominated the championship, winning the tournament in each of its first six years.
Among the top Koreans is Kim Hye-youn who successfully defended her Hyundai China Ladies Open title last year with a two-stroke victory over Feng, and Kim Ha-neul, winner of the KLPGA Tour Order of Merit the past two years.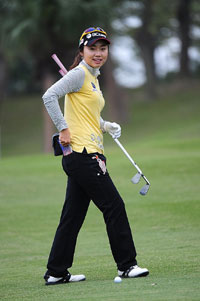 Defending champion Kim Hye-youn
"I am not so happy with my season. While I won once and finished ninth on the KLPGA money list, I had a lot of unfinished business," said 23-year-old Kim Hye-youn. "I want to win three straight (China Open) events. Since I won the opening event here, I want to be No 1 on the KLPGA money list. But I failed at the end, so I was just so-so, 60 out of 100 points for the past season."
Kim Ha-neul, another 23-year-old, won the Order by virtue of a season that included a win, two runner-ups, and three third-place finishes.
"I've played several times here, and am familiar with the golf course. Moreover, I had some good finishes even though I haven't won. My goal this week is a trophy. This is a new season, I am much motivated," said the Seoul sister, a seven-time winner in Korea.
"I am in a good shape now. Last week I finished in top-10 at the Swinging Skirts event, which is the opening event of KLPGA 2013 season. I will try my best to beat Feng Shanshan who won in Dubai last week. Now she is very hot."
Another player coming into Xiamen with a hot hand is 26-year-old Australian Stacy Keating. The second-year pro established herself as a rising star when she captured the Spanish and French Opens back-to-back in late September and early October.
"I just want to just have a good week and if I'm contending on the weekend that would be very nice," said the Victoria native who finished the season sixth on the LET Order of Merit. "This is my first time at China's national Open, so a good field and I like the course."