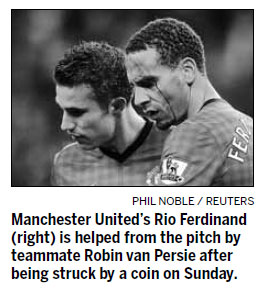 Police said on Monday they were working to track down the person responsible for throwing a coin at Manchester United's Rio Ferdinand during Sunday's Manchester derby.
Ferdinand was left with blood streaming down his face from a cut above his eye after being struck by a coin as he celebrated Robin van Persie's injury-time winner in United's 3-2 victory at Manchester City.
Greater Manchester Police said they had made 13 arrests and charged nine people over offenses that occurred before, during and after the match.
"To have just 13 arrests for a crowd of this size and a match of this proportion is a testament to the policing operation we put in place," said Chief Inspector Steve Howard.
"Despite fierce rivalry and high tension, there was no major disorder. However, we will continue to investigate the coin-throwing incident and are determined to work with the club to bring the perpetrator to justice."
The Football Association is also investigating the incident.
Among the people charged were two men accused of entering the field of play during the game.
City goalkeeper Joe Hart had to restrain one fan from getting at Ferdinand after the coin-throwing incident, prompting the United defender to thank his one-time England colleague on Twitter.
The supporter, 21-year-old landscape gardener Matthew Stott, expressed regret for his behavior on Monday.
"I would like to apologize to all those affected by my actions yesterday (Sunday), particularly Mr Ferdinand and the other players," he said in a statement released by his lawyers. "I am extremely ashamed of my actions. I have let myself down, my family down, my fellow fans down and Manchester City Football Club."
Despite his apology, City canceled Stott's season ticket for the rest of the season and said he would be given a lifetime ban from the club if found guilty of pitch encroachment.
"His season card has been immediately removed for the rest of the season and he has been charged to appear at court. If he is found guilty, he faces a lifetime ban," said a City spokesman.
A 30-year-old man has also been charged with what police said was a "racially aggravated public order" offense.
(China Daily 12/12/2012 page23)