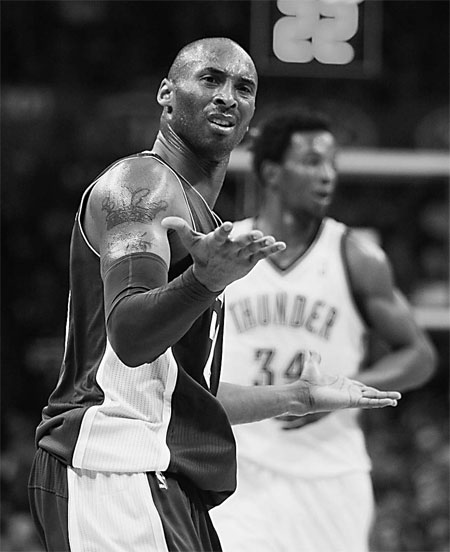 Los Angeles Lakers guard Kobe Bryant (left) looks to an official for an uncalled foul against Oklahoma City Thunder during their NBA game in Oklahoma City on Friday. The Lakers lost 114-108. Bill Waugh / Reuters
In a reversal of roles, Kobe Bryant and the Los Angeles Lakers know they're the predators trying to track down Kevin Durant's Oklahoma City Thunder.
They have some work to do.
Durant had 36 points, Russell Westbrook scored 27 of his 33 in the first half to stake Oklahoma City to a commanding lead and the Thunder beat the short-handed Lakers 114-108 on Friday night.
"They're a team that everybody likes. As a young team coming up, you always want to beat the best," Westbrook said. "I think that's one of the things that motivates us."
Bryant had 35 points for Los Angeles, which trailed by as many as 19 before rallying to get within four in the final minute.
Dwight Howard added 23 points and 18 rebounds for the Lakers, who were eliminated by the Thunder in five games in last season's Western Conference semifinals. Howard and Steve Nash were part of an offseason overhaul to try and catch up to the Thunder.
Instead, the Lakers are 9-11 and focusing on small gains that give them the belief they will eventually turn it around.
"It's 82 games. This team has just gotten together," Howard said. "It's not like we're going to get together and start winning right away ... We're learning how to play together. We're getting better. This is not on anybody's timetable but ours."
Westbrook's big first half put the Thunder in control, but LA charged back with a late 27-12 run to make it interesting.
The game grew tense when Metta World Peace - already a public enemy in Oklahoma City after he clocked James Harden last season - and Serge Ibaka each got technical fouls for a confrontation in the closing minutes.
World Peace grabbed Ibaka's back and the two barked at each other face to face and chest to chest, with Ibaka then grasping the back of World Peace's jersey. Ibaka reared back with his right fist, but the two were separated before it escalated further.
"It's always like that with us, especially Metta World Peace and Serge," Durant said. "Those guys are just playing hard. I don't think it was nothing malicious or bad plays, just guys playing hard."
The Lakers never backed down. After trailing by 12 with 1:32 remaining, Jodie Meeks drove for a pair of layups and Chris Duhon followed with a 3-pointer to cut the deficit to 110-105. Bryant followed Durant's two free throws with a 3-pointer from the corner to get the deficit down to four with 15 seconds left.
Durant hit two foul shots and Meeks airballed a 3-pointer as the rally fizzled.
"They're a tough team," Durant said. "They fought hard all night and made it tough on us."
NOTES:
Howard spent time near the end of the Lakers' shootaround practising his free throws, with Nash - a 90 percent foul shooter in his career - offering suggestions and even mimicking a follow through. At one point, Howard made eight in a row. "My mind cannot get clouded with everybody telling me how to shoot a free throw," said Howard, who is shooting 47 percent at the line this season. "I just have to go up there and shoot it my way and not get caught up with what everybody else is saying because that's when I miss."
(China Daily 12/09/2012 page7)