Marcello Lippi claimed another trophy in his first year in China after Guangzhou Evergrande defeated Guizhou Renhe 4-2 at home to clinch the Chinese Football Association Cup on Sunday.
"It is a really wonderful moment. I told my players before the game that it is the most important day for us because we have to be double champions this season," Lippi said.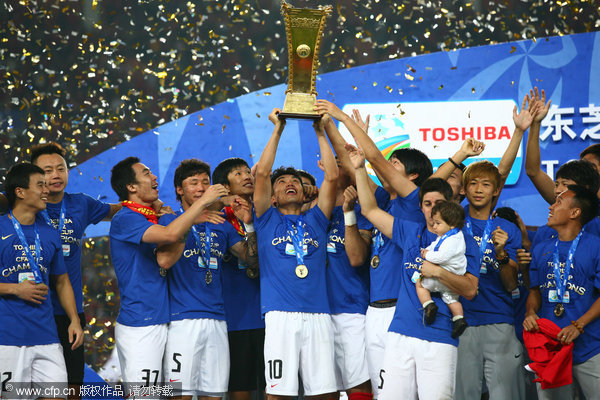 Members of Guangzhou Evergrande hold the CFA Cup and Chinese Super League trophies after beating Guizhou Renhe 4-2 to win the CFA Cup on Sunday at Guangzhou Tianhe Stadium. [Provided to China Daily]
In the first round of CFA Cup, Guangzhou was held to a 1-1 draw by Guizhou in Guiyang, the capital city of Guizhou province, on Nov 10.
On Sunday, Paraguay international Lucas Barrios opened the scoring for Evergrande in the first minute and added another in the second half. Chinese defender Zhang Linpeng and Argentine star Dario Conca also struck to help the Guangzhou team claim the championship at the Tianhe Stadium, which was almost full.
However, two titles this season did not completely erase Lippi's anguish after the team made an early exit from the AFC Champions League.
"For me, losing in the AFC Champions League was the most frustrating thing this year. Even today, the moment when we were knocked out came back to me," the 64-year-old said.
Guangzhou was eliminated by Saudi Arabian team Al Ittihad 5-4 on aggregate in the quarterfinals.
"I have been in Guangzhou for half a year. And I know a lot about the team's strength. We could have done better this season by claiming the continental title," said Lippi, who was named CFA Cup Best Coach on Sunday as well.
The Italian became head coach of the Guangzhou team in May, controversially replacing successful South Korean Lee Jang-soo.
The Guangzhou side won its second consecutive Chinese Super League title after defeating Liaoning Hongyun 1-0 on Oct 28, with one round left.
According to Lippi, a delegation led by Guangzhou Evergrande's chairman, Liu Yongzhuo, will visit several Italian clubs, including AC Milan and Juventus, and watch some games in January.
"Liu will have talks with the AC Milan chairman. But I may not accompany him during the visit because I will be on holiday," Lippi said.
Early last week, Italian media reported the Guangzhou club was poised to buy shares in AC Milan and conduct a series of ventures with the Serie A giant.
"I don't know what they will discuss," he said.
As for a possible reshuffle of foreign stars at the club next season, Lippi said he admired his current crop of internationals and hoped they could contribute more to the team.
"It was a really tough season. They have done their best to help the team win championships," Lippi said.
Brazilian defender Paulo, striker Cleo and South Korean defender Cho Won-hee are to leave the club, according to Chinese website sina.com. Conca is also reportedly going back to Brazil.
"Yes, I have some candidates in my squad from Europe for next season. Maybe Messi, maybe Ronaldo. But right now I don't know who will come to the team," Lippi jokingly said.
"After wining two championships, I can only say that we are on the right track at this moment."
Contact the writer at qiuquanlin@chinadaily.com.cn