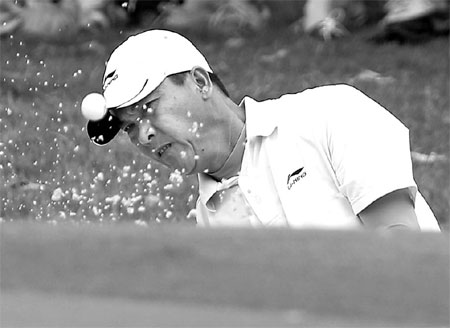 Zhang Lianwei of China hits a shot at the Hong Kong Open on Saturday. Zhang is tied for third, a stroke behind leaders Michael Campbell and Miguel Angel Jiminez. [Photo/Agencies]
Defending champ misses Hong Kong cut, leading him to ponder taking more time off in 2013
World No 1 Rory McIlroy has vowed to cut back his competitive schedule next year after the disappointment of missing the cut in his defense of the Hong Kong Open.
McIlroy four-putted the final green on Friday to crash out of the event by three shots.
It was the second time this year the 23-year old has had to sit out the weekend rounds in the defense of a tournament after also missing the cut in June's US Open at San Francisco.
Before leaving Hong Kong for Dubai and the season-ending World Tour Championship, McIlroy said he's learned a further lesson and will spend the coming weeks working out where he'll compete in 2013.
"Of course, you're going to miss cuts in your career, but it's not nice and it's a tough pill to swallow when you're the defending champion in a tournament," the Northern Irishman said.
"While there's a part of me that perhaps wished my year had ended as soon as I wrapped up the Race to Dubai, I now look back over the last couple of years wondering why did I stretch myself so much," he added. "I've probably played an extra couple of tournaments too much and I have learned from the last few years, so that's why I'm cutting back my schedule even further from next year."
Counting next week's European Tour closing event, McIlroy will have contested 24 tournaments this season as well as the Ryder Cup and teed it up in two exhibition tournaments - the Turkish Airlines World Golf Final and the recent showdown against Tiger Woods in the "Duel at Jinsha Lake".
McIlroy arrived in Hong Kong sounding tired after wrapping up the European Tour Race to Dubai money title a week earlier with his third place finish at the Singapore Open.
And his well-being was reflected in his lethargic manner over the two days in Hong Kong.
"I'm not sure if the energy in trying to sew up the Race to Dubai and competing in the FedEx Cup has taken more out of me than maybe I thought, because while I am feeling OK physically, mentally I feel really tired," he said.
"When you achieve something that you want to achieve so bad, like the Race to Dubai, there is a letdown considering there are still two events remaining."
McIlroy played in 28 tournaments in his first full pro season in 2008, and then cut that by three a year later.
Last year, he competed in 22 regular European and PGA Tour events, but also contested the Grand Slam of Golf, the World Cup, the Korean Open and joined three others competing over seven days on seven courses in the China Golf Challenge.
After combined European and PGA Tour earnings this year of $9,618,210, McIlroy will bank another $1 million by just teeing up in Dubai - the "bonus pool" first prize for capturing the Race to Dubai.
The leading 10 Race to Dubai finishers at the close of next week's $8 million tournament will share an additional purse of $3.75 million.