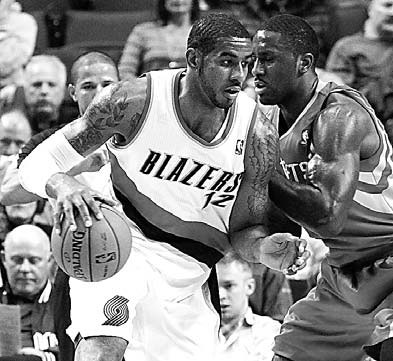 Portland's LaMarcus Aldridge (left) works the ball in against Houston's Patrick Patterson on Friday. Aldridge scored 29 points. Don Ryan / Associated Press
Two of Neil Olshey's biggest offseason moves are paying off in a big way for the Portland Trail Blazers.
Nicolas Batum tied a career high with 35 points, Damian Lillard sparked a late comeback and the Blazers beat the Houston Rockets 119-117 in overtime on Friday night.
LaMarcus Aldridge had 29 points for Portland, including a tiebreaking free throw and key turnaround jumper in the extra session. Lillard scored 16 of the Trail Blazers' last 21 points and finished with a career-high 27.
"He played great," Aldridge said of Lillard, the 6-foot-3 point guard who was the sixth overall pick in this year's draft. "He had ice in his veins. Took big shots, made big shots."
Olshey became Portland's general manager in June. He drafted Lillard and Illinois big man Meyers Leonard in the first round, then re-signed the talented but inconsistent Batum to a $44 million contract.
Batum is averaging 20.8 points and 6.3 rebounds and is shooting 48 percent from the field. Lillard is averaging 19.3 points, 6.4 assists and looks like a candidate for NBA Rookie of the Year.
James Harden had 29 points for the Rockets, who led by as many as 15 before falling behind in the final quarter. Chandler Parsons added 19 points and 11 rebounds.
Portland won its second consecutive game while narrowly avoiding a fourth straight loss at the Rose Garden.
"One thing that has been evident with our team is that we compete until the end," Portland coach Terry Stotts said. "For a long stretch of the game it wasn't going how we wanted it, but when it mattered, we played pretty well."
Lillard made a tying 3-pointer with 3:25 left in overtime. After Omer Asik hit two foul shots for Houston, Lillard connected on another jumper to tie it at 116.
Houston committed a turnover on the other end and Aldridge went 1 for 2 at the line before making a turnaround jumper to extend the lead to 119-116 with 36.8 seconds left.
Harden made a free throw with 1.4 seconds to go but Houston couldn't corral his intentional miss, and the game ended.
"Sometimes you have to tip your hat and say, 'Batum, those are great shots,' and 'Lillard, those are great shots.'" said Kelvin Sampson, who is coaching Houston while Kevin McHale is away from the team to tend to a personal matter.
(China Daily 11/18/2012 page7)