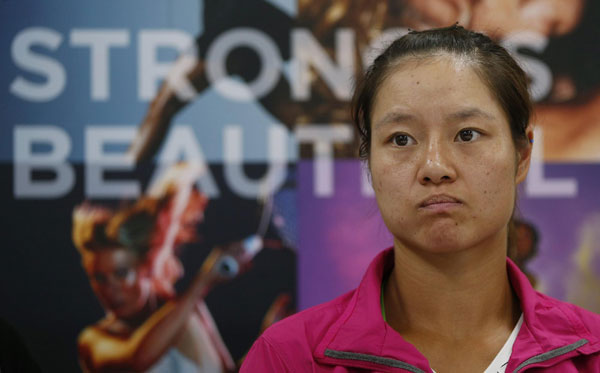 Tennis player Li Na of China attends a news conference for the Pan Pacific Open tennis tournament in Tokyo, Sept 23, 2012. Li stuck to the business of tennis before her appearance in this week's Pan Pacific Open in Japan, refusing to comment on a deepening political crisis between the two countries over disputed islands. [Photo/Agencies]
TOKYO - China's Li Na stuck to the business of tennis before her appearance in this week's Pan Pacific Open in Japan, refusing to comment on a deepening political crisis between the two countries over disputed Diaoyu islands.
Li sat stony-faced at a press gathering on Sunday as an official from the women's WTA tour said repeatedly last year's French Open champion would not answer questions on the row.  
"After the US Open I got a little bit sick," said Li, still struggling with a cough, before the questions turned to a more political nature.
"My book was out so I was busy for three days signing autographs."
Any inquiry about the diplomatic flare-up between China and Japan was immediately shot down by WTA officials.
China had withdrawn its badminton players from last week's Japan Open as tempers flared over a group of uninhabited islands in the East China Sea.
Japan pulled out of the second leg of the Asian Sevens Series in Shanghai.
The Japanese government's decision to nationalise some of the islands -- known as the Senkaku in Japan and Diaoyu in China -- triggered angry protests across China.
The political row escalated on the anniversary of Japan's pre-war invasion of its Asian neighbour, with relations between Asia's two biggest economies deteriorating rapidly.
Li, who has had her share of run-ins with Chinese authorities, kept silent when asked if she had come under pressure for taking part in Tokyo.
The 30-year-old insisted she will be fighting fit at the $2.16 million Tokyo tournament, and credited new coach Carlos Rodriguez for her more positive attitude.
"I want to stand up again," said Li. "My ex-coach (husband Jiang Shan) didn't do a good job. It's very tough to be a coach and a husband. It's very tough to find the right balance.
"My goal is the end of year (Championships in Istanbul)," she added. "I've reached number eight so I'm pretty close (to locking up her spot).
"There's not much time left so I have to work even harder."
Chinese media comments over Li
Changjiang Daily reader: I respect Li Na's choice
She is just an athlete and it is just a game. I respect Li Na's decision; I also understand some people's discontent against Li Na's decision at this sensitive moment, but calling her a "traitor" is too big an accusation, which is regrettable and disturbing. 
As matter of fact, Zheng Jie and Peng Shuai also registered for the Japanese tournament, but people did not react as strong. Obviously, as an influential public figure like Li Na, it is tougher to make her own choice.
Actually, no matter Li Na, Zheng Jie or Peng Shuai, people can have different opinions about the ways athletes lead their lives, but vicious curses like "sinner of the history" or "traitor of the country" make zero sense, and they are certainly not the mature perspectives that a society should display.
Yahoo Sports: Please wield not the patriotic stick to disparage Li Na
Patriotism is supposed to be a breadth of mind, an attitude and more importantly a type of action. It should be defined on the basis of action.
The fact that a group of Chinese nationals over-criticize Li Na, rather than being patriotic, seems more of a young cynic's behavior. Patriotism calls for rationality not anger. Li Na's participation in the Japanese tournament should only be considered within the realm of sports. Any association of "traitor" is going to hurt our innocent fellow Chinese with the patriotic stick.
Titan Sports: For the love of China, Li Na should go to Japan all the same
Tennis, a highly professional and international sport, has its own operation and development patterns. Although there have been sports teams in Japan and China recently cancelling trips to each other's country, it does not affect the tennis courts. In the Guangzhou Open WTA tournament last week, Japanese player Ayumi Morita faced Peng Shuai in the first round and the crowd cheered for the outstanding performance of both players, which is exactly the way a great country should treat its guests.
Hope Li Na, Zheng Jie and Peng Shuai will receive as fair and warm treatment in Tokyo this week. At the same time, Asia's top male player Kei Nishikori confirmed that he will show up at the Shanghai Rolex Masters. Therefore, obviously tennis athletes participate in tournaments according to their schedules. If Li Na quits this time as some people wish, there might be more negative comments from the foreign press.