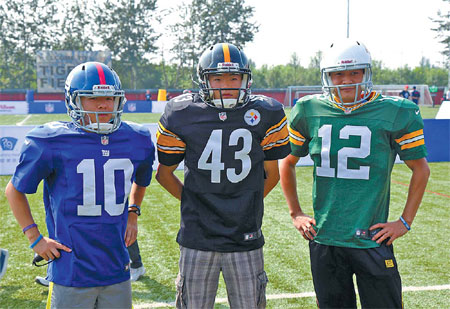 Local tackle football players pose at the NFL Experience held at Western Academy Beijing on Sept 8. Four local tackle football teams - Beijing's Red Star Football Club, the Beijing Cyclones, the Shanghai Warriors and the Shanghai Nighthawks - competed in exhibition games during the one-day event. [Provided to China Daily]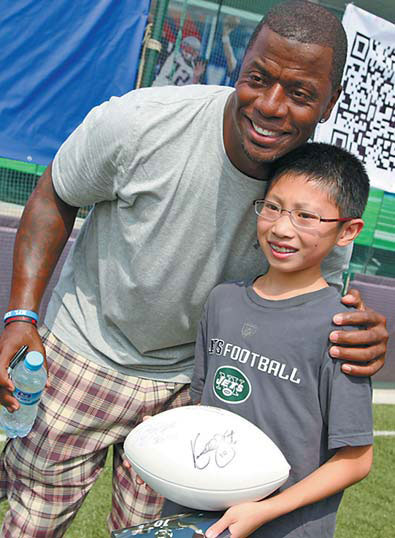 Former NFL quarterback Kordell Stewart, who played for three teams in his 10 year career, was in Beijing recently. [Provided to China Daily]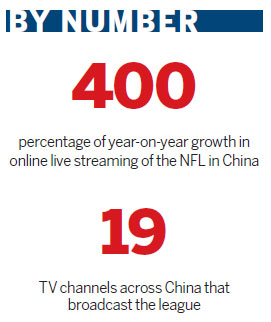 The NFL is trying to work its way into China, but there's an awful long way to go, Tang Zhe writes.
Promoting a non-Olympic sport in a country with a small fan base is by no means an easy task. However, Richard Young, managing director of NFL China, says he is a patient man and is optimistic about American football's prospects here.
After establishing its first office in China in 2007, the NFL has experienced steady growth here over the past few years. According to Young, who stepped into the role in December 2010, the league is on 19 TV channels across China, and has seen a 400 percent year-on-year increase in online viewing. Its followers on Sina Weibo have also increased from 50,000 to 170,000.
Compared with the NBA - which has grown to be one of the most watched and popular foreign leagues in China, and has built up a strong connection with Chinese basketball fans - the NFL is still paving the way for more locals to see and embrace its game.
The biggest obstacle for the most popular sport in the United States in China is a lack of support systems, Young told China Daily at NFL China's first NFL Experience event held in the capital city at the Western Academy Beijing on Sept 8.
"I think the construction of a youth league is what we need - that's part of being an Olympic sport, but we are not an Olympic sport. However, going into countries, if you don't have that structure for the youth, it's very difficult to get into schools, and get into the parks, so that's a big challenge for us," Young said.
"I admire very much what the NBA has done; they've had a lot of support. For example, Yao Ming was made in China; he wasn't made by the NBA. There is a Chinese Basketball Association, but there is no Chinese American football association, there is an East Asian Basketball Association, there is no East Asian American football association, there is an Asian Basketball Association, but there is no Asian American football association. There is a world FIBA (International Basketball Federation), we have IFAF (International Federation of American Football), but it is still very small.
"So, the NBA has help from all five associations and their target is to popularize the sport. My job is to push the 32 teams of the NFL, not necessarily youth development, but I want to. I know we have to expand this market," Young said. "We have to make people aware of how to throw a ball before we can make them Packers fans or Steelers fans. So our job here is to be both of a professional organization as well as an amateur association."
NFL China's first major step in China came through the promotion of flag football in universities.
It started the University Bowl, the championship game of NFL China's collegiate flag football competition, in 2009.
The 36-team university league is growing, with more than 1,000 players participating in the 2012-13 season.
"It's an easier way to start to play the game," Young said. "But the most important thing is we believe it's the very best sport in the world, and once people touch it, feel it and see it, they will become fans."
New tackle football teams have exploded onto the sports scene this season, with local leagues popping up in Tianjin, Zhuhai, Hong Kong and Guangzhou.
NFL China is also taking its interactive theme park, the NFL Experience, to Shanghai, Beijing and Guangzhou to offer locals a taste of American football via participatory games, exhibition football games and youth football clinics.
More than 4,000 enthusiastic attendees came out for NFL Experience in Beijing, which also involved former Pittsburgh Steelers quarterback Kordell Stewart and the New England Patriots cheerleaders. The event will go to Guangzhou on Nov 11.
"The fan base out there looks great. They want to learn and are excited about football. That's how it all starts. With this kind of support at the community level, the sky is the limit for NFL China," Stewart said.
"The core values of American football that this country has are work ethic, loyalty and being able to persevere," said the 39-year-old, who has been doing television commentary since his retirement. "When China puts its mind to it, anything it does takes off.
"We'll be looking for the NFL's Yao Ming in the next few years. There's a lot of talent out there and it just takes time to develop. It's not about physicality. It's about nurturing the skills that are being shown on the field today,. It's just a matter of having the will to make it work."
Young said the league is moving forward a step at a time and would not rush into holding NFL games in China.
"This (the one-day NFL Experience) may be small now, but every time we do something, the next year we do it bigger and better. We don't want to do something, and not do it again next year," Young said. "Yes, we will hold games here at some time, but only when we know we have a big enough fan base that we can be so successful that we can do an even bigger game the next year."