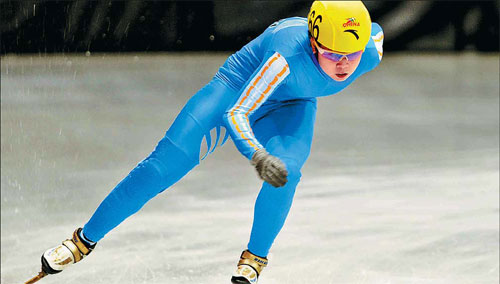 Wang Meng competes at the national short track speed skating league's Harbin stop on Thursday in Harbin, Heilongjiang province. Wang clocked 1 min 30.949 sec in the nine-lap pursuit to qualify for the Group A race. It was Wang's return from a suspension she earned last year for drunkenly punching a team manager. [Photo / Xinhua]
Four-time Olympic gold medalist looks good in first race back after suspension
China's most decorated winter Olympian, Wang Meng, was back in the national fold on Thursday, starting a journey she hopes will lead to her third Winter Olympics.
The 27-year-old was banned from competition last year following a drunken brawl with a former team manager.
At the national short track speed skating league in Harbin, Heilongjiang province, Wang, who represents her home province, Heilongjiang, clocked 1 min 30.949 sec in a nine-lap pursuit on Thursday, which qualified her for the later Group A race.
Wang, who has not taken part in any competition since the 2010 Vancouver Winter Games, said the result was not as important as the feeling she got from racing again.
"I haven't competed for more than two years. The result is not the most important thing. It's getting back the feeling of competition," Wang said. "Thank you for all your caring.
"I was nervous while competing again and felt a little tired. I am just very grateful to stand on the ice again."
Between Turin and Vancouver, Wang collected a total of four Olympic gold medals, a silver and a bronze.
The results at the national competition are important as she seeks to return to the national squad.
"The ban on Wang has been lifted, but whether she can come back to the national team and compete at the 2014 Sochi Winter Olympics depends on how she performs at competitions," said Lan Li, vice-director of China's Winter Sports Administrative Center.
"The results at the Harbin stop are very important for her. We will watch her form and ability throughout this competition. If she performs at a high level, it will be natural for her to come back to the national team and compete at the Sochi Games."
The coach was satisfied with her performance on the first day.
"I'm very satisfied with her result today and it has met my expectations," said Yi Min, head coach of the Heilongjiang team. "I'm very happy Wang was able to reach this level again."
Wang was kicked off the national team and banned from domestic and international competitions last August for punching former team manager Wang Chunlu during a drunken scuffle after she returned late to training camp following a night out.
"During the suspension I reflected upon my mistake a lot," Wang said. "I was not calm at that time and I have to take responsibility. I should say thank you to all the people that cared about me during this period. The only thing that I can repay them with is training hard on the ice. I just want to say I'm back again and this is a new, more mature Wang."
leilei@chinadaily.com.cn