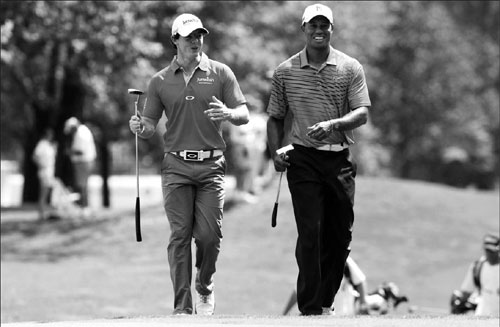 Rory McIlroy (left) of Northern Ireland talks with Tiger Woods of the US as they approach the first green during round one of the BMW Championship tournament in Carmel, Indiana, on Thursday. McIlroy shot a 64 and Woods had a 65. Brent Smith / Reuters
Cross-generational battle between the world's top golfers is only just starting to heat up, Reuters reports.
First there was Tiger Woods and Ernie (Els), then there was Tiger and Sergio (Garcia) and Tiger and Phil (Mickelson).
Now it is Tiger and Rory (McIlroy) and it shows every of sign of becoming one of golf's great all-time rivalries as the young Northern Irishman and veteran American went toe-to-toe at the BMW Championship on Thursday in Carmel, Indiana.
After carding birdies on their opening holes, it was clear the massive gallery was in for a special treat on a sweltering Thursday at Crooked Stick Golf Club as Woods and McIlroy showcased their considerable talents.
While the third stop of the FedExCup playoff series features an elite field of 70 golfers, the first round quickly turned into a two-man show with Woods and McIlroy whipping the crowd into a frenzy with a display of quality shot-making.
Some of Woods' rivalries over the years have been manufactured but his rivalry with McIlroy has been allowed to develop naturally, blossoming into a battle of the generations.
Now aged 36, Woods is staring at the downside of a brilliant career. At 23, McIlroy's star is on the rise, the richly-gifted heir to Woods' throne.
"As Jack (Nicklaus) said numerous times, it was nice to be part of the cross-generational conversations we had with Gary (Player) and Arnold (Palmer) really," said Woods. "He was kind of on his way out but he was part of the (Tom) Watson and (Tom) Weiskopf and (Lee) Trevino and all those guys.
"It was nice to be a part of it, be in it for over 20 years.
"This is my 17th year out here. The guys I battled head-to-head are early 40s if not late 40s, like Vijay (Singh) is late 40s. This is the next generation of guys."
Changing of the guard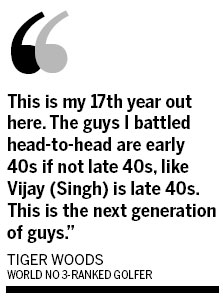 While Woods can see golf's future, he is not yet ready to acknowledge a changing of the guard is taking place and even a quick glance at the rankings backs him up.
McIlroy and Woods are the only two players to have won three PGA Tour events this season and the American remains confident Nicklaus' career record of 18 majors is within his reach.
But the golfing world is also predicting greatness for the mop-topped Northern Irishman and if McIlroy can live up to those lofty expectations, their rivalry could yet develop into one for the ages.
McIlroy has always offered Woods respect, but he has never been in awe. While many have crumbled in Woods' presence, McIlroy has never shown any fear.
It was certainly a mutual admiration society on Thursday as Woods and McIlroy, playing together in a tournament for the second time in three weeks, heaped praise on each other.
The rivalry has developed to the point that it seems to bring out the best in both men, McIlroy carding an eight-under-par 64 to grab a share of the first-round lead while Woods was just one shot back after returning a 65.
"He's a nice kid, he really is," gushed Woods. "It's fun to play with him and he's just an amazing talent.
"You watch him swing the club and watch him putt and play, he doesn't have a lot of weaknesses.
"You can see that in the next decade or so as he really matures and understands some of the nuances of the game, he's only going to get better."
(China Daily 09/08/2012 page15)