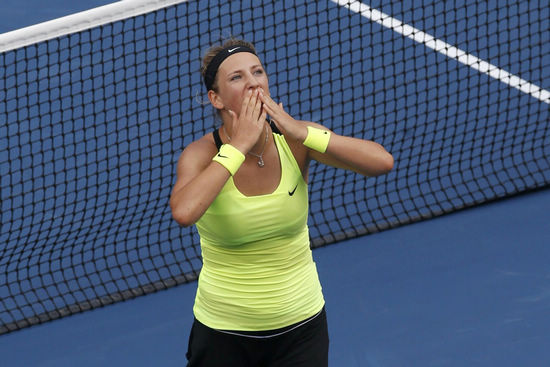 Victoria Azarenka of Belarus blows a kiss as she celebrates after defeating Maria Sharapova of Russia in their women's semifinals match at the US Open tennis tournament in New York September 7, 2012. [Photo/Agencies]
FLUSHING MEADOWS, New York - Top-seeded Victoria Azarenka of Belarus overcame a lackluster opening set to beat third-seeded former champion Maria Sharapova of Russia 3-6, 6-2, 6-4 on Friday, setting up a showdown against three-time champion Serena Williams at the US Open women's final.
Fourth seeded Williams gave another quick fire of her opponent Sara Errani in 64 minutes, downing the No. 10 seed Italian 6-1, 6-2.
Williams, 14-time grand slam singles winner, holds a record of 9-1 against Azarenka, including three victories this year from Madrid Masters final, Olympic and Wimbledon semifinals. Azarenka's only triumph over the American came from the 2009 Miami Masters. Last year it's Williams that snapped the Belarussian's US Open journey in round of 32.
The semifinals clash between Azarenka and Sharapova was a rematch of their meeting in this year's Australian Open final, but it was nothing like the 6-3, 6-0 rout registered by Azarenka in claiming the crown in Melbourne for her maiden grand slam title.
After dropping her racket in euphoric disbelief, Azarenka did her signature shuffle dance and blew kisses to the Arthur Ashe Stadium crowd after shaking hands at the net.
French Open winner Sharapova was pressured throughout the final set, taken to two deuces on her serve in the second game, to five deuces in the fourth and to four deuces in the sixth, but the Russian held Azarenka off valiantly before succumbing in the last game.
"Maria came out firing and placed the ball well," said Azarenka, who became the first player from Belarus to reach a US Open singles final, said about her slow start to the two-hour 42-minute match.
"I was just trying to find my rhythm and just fight. I tried to give whatever it takes. Give it all. That worked for me to pull it out."
Sharapova dominated the opening set, cracking winners off both wings from the opening game, while a surprisingly tight Azarenka registered just one winner.
Azarenka double-faulted on break point in her first service game to fall behind 2-0, and did so again in the sixth game to sink into a 5-1 hole.
Then Sharapova lost control of her serve. Serving for the set in the seventh game, the 2006 US Open winner double faulted twice in a row to hand Azarenka a service break.
The second set swung the other way, with Azarenka belting the ball more freely and controlling play after dropping serve in the first game.
Service breaks in the second and fourth games helped the world No. 1 seize a 4-1 lead on her way to leveling the match.
Sharapova had posted a 12-0 record this year in matches going three sets, and Azarenka was 11-0 in three-setters so something had to give and it was the Russian who failed to keep her 2012 third-set record spotless.
The Russian, who completed her grand slam collection by winning the French Open in June, could not withstand the groundstroke pressure applied by Azarenka, who will be seeking her second career grand slam singles crown on Saturday.