VANCOUVER - After winning the LPGA Championship in June, Chinese mainland No. 1 golfer Feng Shanshan said Wednesday she has quickly become used to getting star treatment, but that hasn't stopped her from wanting more.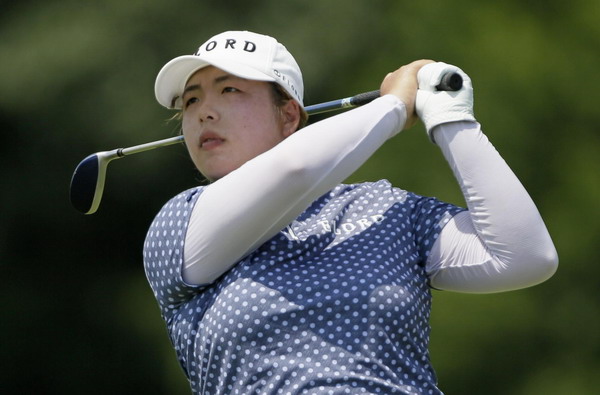 Shanshan Feng of China watches her shot from the eighth tee during the US Women's Open golf tournament at Blackwolf Run in Kohler, Wisconsin in this July 5, 2012 file photo. [Photo/Agencies]
Among the items on the Guangdong native's wish list is representing her country in the Olympics at the 2016 Rio Games, becoming the first domestic player to win the China Women's Open, as well as raising her game.
"I've told everybody that I feel like I'm a star now, because when I go everywhere a lot of people recognize me, and lots of spectators know my English name is Jenny," said the 23-year-old Feng, currently number three in the women's world ranking, the highest spot ever achieved by a Chinese mainland player, male or female.
"They're very nice and a lot of people are rooting for me in China, or outside of China, so I'm very happy."
After winning twice on the Japan Tour in 2011, Feng has emerged as one of the game's top players this year. In March, she captured the World Ladies Championship for her first Ladies European Tour victory in Hainan, while she has won twice in Japan again this year, both in playoffs.
Her biggest win, however, came in June when she won the LPGA Championship, one of the US tour's four majors. The two-stroke victory over four players made her the first Chinese mainland player to win in America.
"The first win in Japan last year really helped. I gained a lot of confidence because that was my first win after I turned pro (in 2008), and right now I've had six wins in one year. I think I'm in good condition and I'm going to just keep the confidence and trust myself and play."
With golf set to be reinstated into the Olympic roster for the 2016 Rio Games after an absence of 112 years, Feng told Xinhua that after watching the recent action from London she would like to be part of the Chinese team. At present, it's still undecided what the playing format will be.
"Yes, I really want to play in the Olympic Games. But this is like four years later, like nobody knows what will happen at that time. But I'm going to try, you know, to be on the team," adding that the sport's Olympic inclusion will undoubtedly help boost golf's profile in China.
"Hopefully it does, and I would say if somebody from China is going to have a medal, like a gold medal, a silver medal, it's going to help grow (golf) in China."
In the meantime, however, her immediate goals include preparing for the Women's British Open next month at Royal Liverpool, the last major of the LPGA Tour season, and taking another shot at winning the China Ladies Open.
Last December in Xiamen Feng placed second at the national championship as Kim Hye-youn lifted the trophy, the sixth consecutive year a South Korean has won the tournament.
"I mean I really want to play, if the schedule is okay I'm going to play. Of course, I really want to have a win in China. Earlier this year I had a win in China, but this is the China Open, which, you know, not a Chinese has won before. So I really want to try to keep the trophy in China this year."
In Vancouver, where 48 of the top-50 money winners from this year's LPGA Tour are in the field, Feng added it would be good to win Canada's national championship, a tournament that was previously a major from 1979 to 2000.
Last week in Oregon, she finished tied for 19th at the Safeway Classic to earn $16,125, raising her season earnings stateside to $1.02 million for the year.
"Actually, last week, I would say the first two days I was a little lost because my ball striking wasn't very good and then I found it back the final day," Feng said.  "So I'm very confident going into this week."