LONDON - Zou Shiming won his second successive Olympic gold medal on Saturday, beating Thailand's Kaeo Pongprayoon in a battle of two of the oldest fighters at the London Games to cap his total dominance of the light-flyweight division.
Zou, who won China's first Olympic boxing medal, a bronze, eight years ago and its first gold in front of home fans at the Beijing Games, added a second Olympic win to a career haul that also includes three world amateur championships.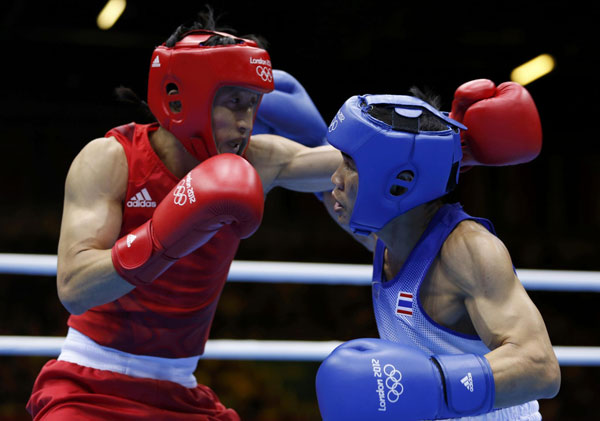 Zou Shiming (L) fights Thailand's Kaeo Pongprayoon during their Men's Light Fly (49kg) gold medal boxing match at the London Olympics August 11, 2012. [Photo/Agencies]
The canny 31-year-old, who survived a couple of scares to reach the final, grinned all the way to the ring and was probably still smiling inside when he was slightly fortunate to be narrowly ahead after the first round.
Pongprayoon, at 32 the oldest among the men's 20 finalists, was cheered on by the majority of the crowd, including a noisy section of Thai fans, but their encouragement turned to boos after the second round when he was again unlucky to lose by a single point.
Pongprayoon continued to be a nuisance against his taller opponent in the final round, catching Zou with a big left but the now double Olympic champion, who was warned for holding, hung on to win 13-10.
Pongprayoon, who also received a warning in the final seconds of the bout, fell to the ground in tears and beat the canvass in frustration as a flag-waving Zou was booed.
Pongprayoon's cornerman even raised his fighter's hand in defiance to the delight of the crowd.
Losing semi-finalists Ireland's Paddy Barnes and David Ayrapetyan of Russia took bronze.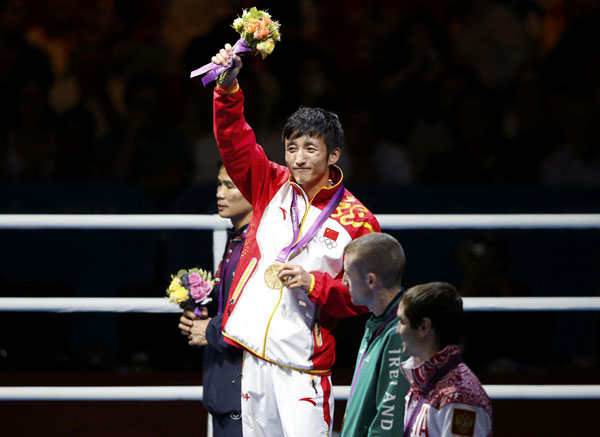 Zou Shiming of China poses with his gold medal during the presentation ceremony for the Men's Light Fly (49kg) boxing competition at the London Olympics August 11, 2012. [Photo/Agencies]