Serena Williams of the US reacts during her women's quarter-final tennis match against Petra Kvitova of the Czech Republic at the Wimbledon tennis championships in London July 3, 2012.  [Photo\Agencies]
LONDON - There was a look of cold-steel concentration on Serena Williams's features as she walked on to Centre Court to face Petra Kvitova that hinted at the barrage of cannon fire she was about to unleash at the defending Wimbledon champion.
Having reached the quarter-finals offering just fleeting glimpses of the quality that had brought her four Wimbledon titles, she provided a full-speed flashback on Tuesday to the glory days to win 6-3 7-5 and end the Czech's hopes of retaining her title.
The quality of tennis on show could have graced the final as both players tore into each other with rasping serves and ferocious groundstrokes, but it was the greater power and fight of Williams that won out.
"I had to weed out the riff raff and just get serious," Williams said after putting in arguably the best woman's performance at Wimbledon this year that carried with it all the hallmarks of a champion's display.
"You can't play a defending Wimbledon champion or grand slam champion and not elevate your game."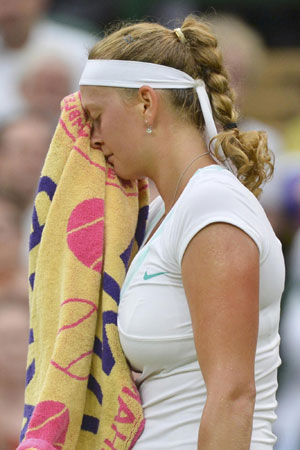 Petra Kvitova of the Czech Republic reacts during her women's quarter-final tennis match against Serena Williams of the US at the Wimbledon tennis championships in London July 3, 2012.  [Photo\Agencies]
Williams has a gilded grand slam record and a habit of only producing her best tennis when she is playing for big stakes.
Facing the Wimbledon champion is the kind of occasion Williams, who has had a timeshare investment in the Venus Rosewater Dish since she won it for the first time in 2002, thrives on.    
The contest had looked very even in the early games before the American turned up the heat with a vicious display of power hitting that left Kvitova stammering for a response.
Any return that dropped midcourt was sent crashing past the Czech with fearsome regularity as she was broken decisively in the sixth game of the first set.
The sound of the balls, "a whoosh and a pop" on a covered Centre Court had Williams purring that it was "almost like a video game".
It was a particularly brutal game for the Czech. After a nip and tuck second set in which Kvitova had created and spurned a set point, Williams showcased her fighter qualities, firing a vicious put-away straight at her opponent when she had the whole court to aim at.  
She broke the very next game before serving her 13th ace to bring up match point and closed out with a service winner to set up a semi-final against either Belarus's Victoria Azarenka or Austria's Tamira Paszek.
"I hate losing," the 13-times grand slam champion said. "If I lose, I don't keep the trophy. So semi-final, it's great in a way, but at the end of the day if you're not first, you're last."
Kvitova had not played badly, but she knew facing Williams on her day is a tough task.
"It is big difficult (to beat her)," Kvitova said. "I think that's why she's the great champion, because she knows what she needs to play in the important points."