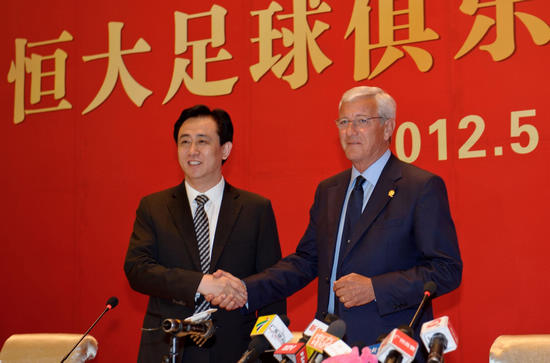 Marcello Lippi (R) shakes hand with Xu Jiayin, owner of Guangzhou Evergrande Football Club, at a press conference in Guangzhou, May 17, 2012. [Photo/Xinhua] 
GUANGZHOU, China - World-cup winning Italian coach Marcello Lippi had signed two-and-a half-year contract to coach Chinese super league champions Guangzhou Evergrande.
The former head coach Lee Jang-soo from South Korea, has to step down as the more well-known Lippi comes.
"Lippi arrived in Guangzhou at about 2:00am on Thursday and the club will officially announce the replacement in the afternoon," said a top club official in anonymity.
Guangzhou edged Thai league champions Buriram United 2-1 with Dario Conca's penalty in injury time on Tuesday night, standing out from the Group of Death to the final 16 in AFC champions league.
Lee was told by the club president Liu Yongzhuo that he was sacked, when the team departed Buriram for Guangzhou via Bangkok on Wednesday noon.
The 56-year old South Korean held a team talk later in the Bangkok airport. "I will no longer be your coach after we return to Guangzhou, you are all professional players, you should continue working hard in your future career," he said.
Lee saw many fans waiting at the airport when he arrived in Guangzhou, holding banners saying "Don't go!", "Guangzhou Thank you!".
Lee hugged his players one by one at the airport for farewell. Some players burst into tears.
"Together, we have gone through good days and bad days. We have achieved so many glories. You are the best coach. I will never forget you," said the team's right wing back Zhang Linpeng, who joined the team in 2010 along with Lee Jang-soo's arrival.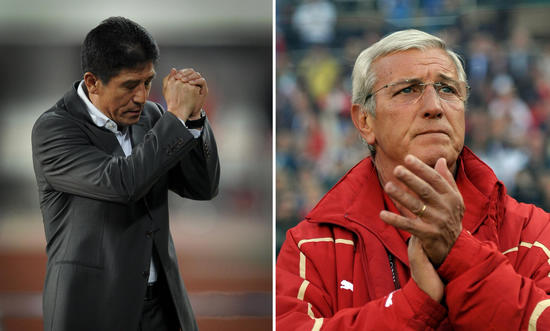 Sacked Guangzhou Evergrande coach Lee Jang-soo (L) and newly-appointed coach Marcello Lippi, file photo. [Photo/Xinhua]
The 56-year-old South Korean took rein of the club in 2010, when Guangzhou was relegated from the CSL over a match-fixing scandal. Lee led the team back to top flight and claimed the CSL title in 2011. The team also won the CFA Super Cup in February.
Lee's job was in danger after the team suffered a bitter 2-1 home defeat to Thai league champions Buriram United and surrendered their advantage in late March. Meanwhile, "Lippi Rumor" started to spread out.
However, Lee's team quickly resurged as they harvested a stunning 3-1 victory over Japanese J-League champions Kashiwa Reysol to top Group H, keeping the only hope for Chinese clubs to survive AFC Champions League group stage.
"The team is on a right way, and it is the crucial time now. The coach is under pressure, but we are giving him full support. I told Lee that we were behind him," Liu Yongzhuo said in late April, when the club denied the Lippi link.
But Lee's job again fell into jeopardy after Guangzhou suffered a bitter home loss against Jeonbuk Hyundai 3-1 in AFC Champions League two weeks ago, when team's top star Dario Conca lashed out at the coach after he was replaced in the 60th minute.
The Argentine midfielder received a 9-match suspension and a fine of 1 million Yuan (about $160,000).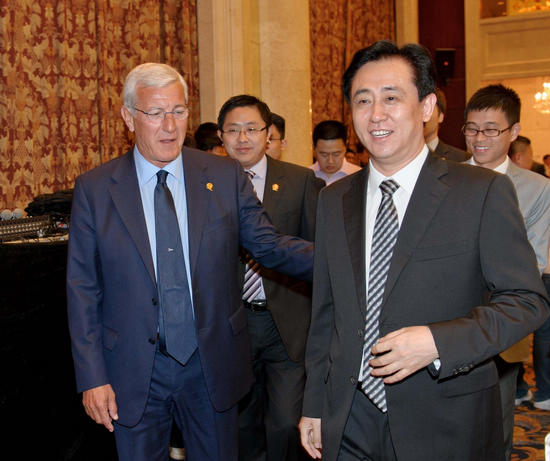 Marcello Lippi (L) and Xu Jiayin, owner of Guangzhou Evergrande Football Club, attend a press conference in Guangzhou, May 17, 2012. [Photo/Xinhua]
Lippi factfile
Full name: Marcello Romeo Lippi
Date of birth: April 11, 1948 (age 64)
Place of birth: Viareggio, Italy
Playing position: Midfielder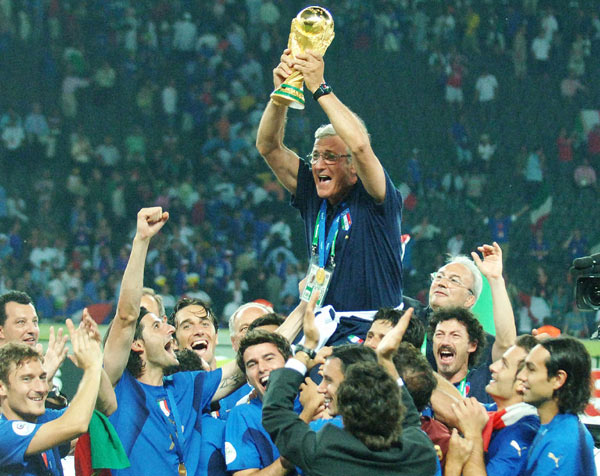 Lippi (top) celebrates with Italian national team after winning the 18th FIFA World Cup finals, in this July 9, 2006 file photo. [Photo/Xinhua]
Coaching career:
1992–1993  Atalanta
1993–1994  Napoli
1994–1999  Juventus
1999–2000  Internazionale
2001–2004  Juventus
2004–2006  Italy
2008–2010  Italy
2012–now   Guangzhou Evergrande
Awards and achievements:
1995–1996  Coaching Juventus to UEFA Champions League
2006  Coaching Italy to FIFA World Cup