Dortmund's striker Barrios join Evergrande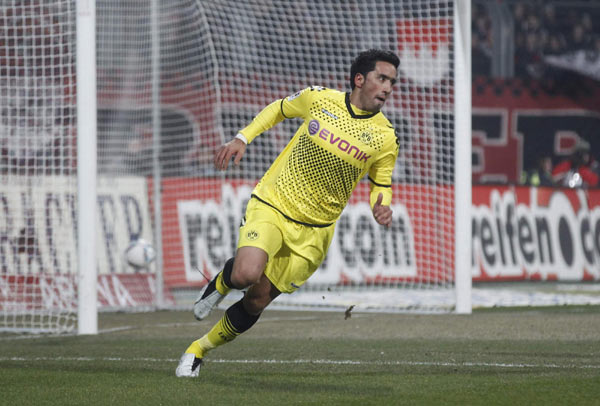 Borussia Dortmund's Lucas Barrios celebrates a goal during their German Bundesliga first division soccer match against FC Nuremberg in Nuremberg in this February 3, 2012 file photo. [Photo/Agencies] 
GUANGZHOU - Big spending Chinese Super League champions Guangzhou Evergrande announced on Wednesday the signing of Dortmund's Paraguayan forward Lucas Barrios on a four-year contract worth the leauge record 8.5 million Euros.
"Barrios will arrive in Guangzhou in June," a club official told Xinhua.
Barrios, who scored 39 goals in 82 Bundesliga appearances, was the German league champions' top scorer as they romped to the title last season. But he conceded his starting berth to Polish striker Robert Lewandowski due to injury last summer.
"For the first time, a world-class player joined the Chinese league at his peak period," said the spokesman of Evergrande Group, a real estate firm controlled by the club owner Xu Jiayin.
"We believe that Barrios will bring a lot to the Chinese league, and it will boost the interest for Chinese firms to invest in football," he added.
Barrios's signing broke the transfer record of the Chinese super league. Last season, Argentine striker Dario Conca smashed the league record of 10 million U.S. dollars to join Guangzhou Evergrande. Then the club also splashed out 7.5 million dollars on Brazilian forward Cleo and Muriqui.
"Our potentials will be world-class players as we have already signed the Brazilian league MVP Dario Conca," said Xu Jiayin
For this season, Xu Jiayin promised to pour in more than 100 million U.S. dollars for the team as they set sight to international fame.
"Everyday we are scouting in Europe. I believe we can manage some world-class imports in the near future," the club president Liu Yongzhuo told Xinhua in an early interview.
The Chinese champions are now struggling for surviving the "Group of Death" in AFC Champions league after losing to Joenbuk Hyundai Motors 3-1 at home on Tuesday, surrendering their favor in Group H which combined the Chinese, South Korean, Japanese and Thai league champions.

Editor's picks

Copyright 1995 - . All rights reserved. The content (including but not limited to text, photo, multimedia information, etc) published in this site belongs to China Daily Information Co (CDIC). Without written authorization from CDIC, such content shall not be republished or used in any form. Note: Browsers with 1024*768 or higher resolution are suggested for this site.
Registration Number: 130349