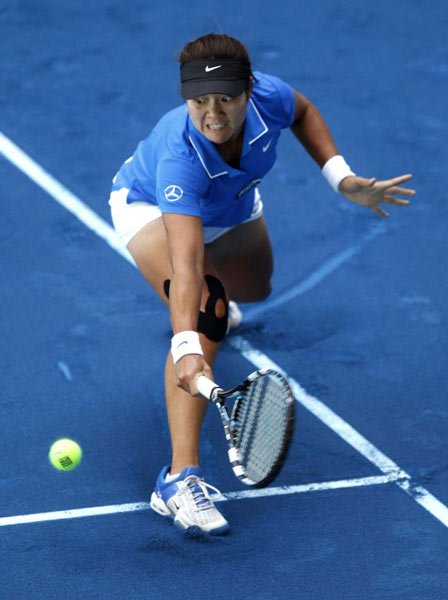 Li Na of China returns the ball to Angelique Kerber of Germany during their women's singles match at the Madrid Open tennis tournament in Madrid, May 9, 2012. [Photo/Agencies]
Humble and focused after progressing
Li Na was focused on the job in hand after defeating Kerber on Wednesday.
"I know the way she (Kerber) plays and I lost easily to her at the start of the year in Indian Wells, so I really didn't want to lose twice in a row," explained Li after her 7-5, 6-4 win. "In Indian Wells, I was always looking to hit a winning shot, but today I was patient and I tried to make her make mistakes," she explained.
The 30-year-old will move to Rome and then Paris, where she will defend her French Open title. She insisted she was focused on winning in Madrid and relaxed about what may happen in Paris.
"I still have another tournament before France, (Rome) but now I am enjoying Madrid and playing well here. When I go to Paris again, I want to go and enjoy it on court without any pressure."
"A lot of people say 'the French Open is coming soon, you are defending Champion and you should have a lot of pressure,' but I am not young any more: this is true, I don't know how much longer I can keep on playing, so I just want to enjoy it," she commented.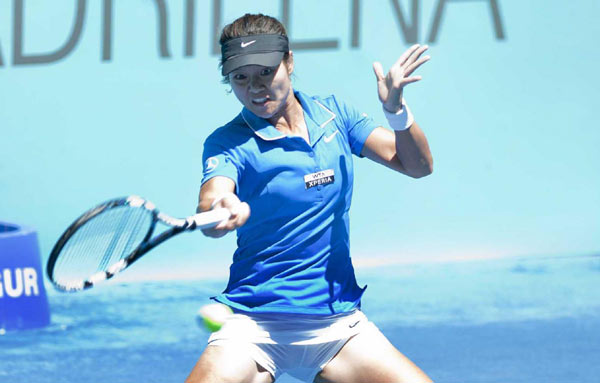 Li Na of China serves the ball to Angelique Kerber of Germany during their women's singles match at the Madrid Open tennis tournament in Madrid, May 9, 2012. [Photo/Xinhua]
Li also gave an indication of her humility in her attitude to tennis and life in general, although she admitted that the second half of last season had been complicated.
"I am still Li Na, I am still from China, nothing has changed and I am nothing special," she said.
"Last year after winning the French Open, I didn't do well and I lost focus on court and I was not enjoying playing. So at the end of the year, I stayed in Munich for six weeks, just training and trying to get back on court and it's not bad, because I think I am doing well at the start of this year," she explained, brushing aside the fact that she was recently rated as fifth on Forbes Chinese celebrity list.
"I always think that being number five (in the Forbes list), is from outside, it is something that the fans and sponsors have given to me, but for me I am still a tennis player, so my job is to play good tennis on the court."
"I never try to be a hero for the country. Tennis is my job and I try to do well in my job. I don't know why many people think she is special. I am just a normal person, I am just an athlete," said Li.