MADRID - Victoria Azarenka will arrive for the London Olympics with her eyes on a gold medal rather than swapping pins.
In Beijing four years ago she admits she was a wide-eyed and distracted teenager enjoying her first taste of the Olympics.
Now, the elegant Belarussian has rocketed to the top of the world rankings after winning her first grand slam singles title at the Australian Open this year.
A 26-match winning streak also secured triumphs at Sydney, Doha and Indian Wells plus more than $4 million in prize money.
At the Madrid Open on Tuesday, Azarenka told Reuters she had not been fully concentrating on her tennis in China in 2008 when she was knocked out by Venus Williams in the third round but will be deadly serious this year on Wimbledon's grass courts.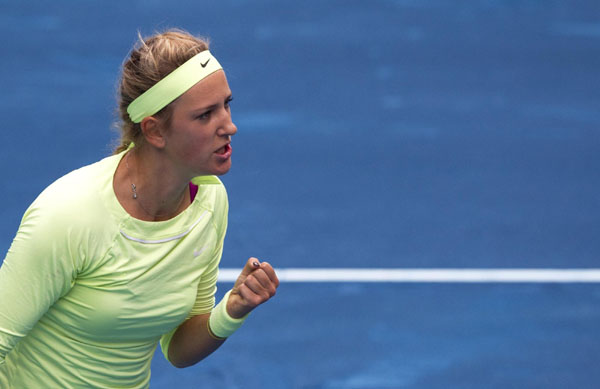 Belarus' Victoria Azarenka celebrates winning a point to Andrea Hlavackova of Czech Republic during their women's singles match at the Madrid Open tennis tournament May 8, 2012.[Photo/Agencies]
"I don't really remember too much about playing (in Beijing) as I wasn't too focused on the tennis back then," the 22-year-old said.
"I was more focused on the experience and running around exchanging pins and stuff.
"It was a really great experience to feel that atmosphere in the stadium and being in the village with all the different athletes.
"I wasn't that curious back then which is a little bit disappointing but I have another opportunity to represent my country at such an event and it's just something unexplainable in words."
Azarenka said she will not be staying in the London Olympic village with other members of the Belarussian team as it is too far from the All England Club.
A tournament at Wimbledon in which players are sporting their national colours instead of the traditional white will be a novel experience, she added.
"Just the thought of playing at Wimbledon not dressed in all-white is already an extreme change," she said. "I just cannot picture the image of how it's going to be.
"It's very important for me to represent my country because you realise that there are so many people behind you and rooting for you to do well.
"People don't care about whatever else is going on they just gather together and watch the event. It's just an unbelievable feeling and I remember how I used to watch the Olympic Games on TV, the swimming, the runners it was just amazing."
If Azarenka manages to claim the French Open crown before heading to London, she will remain on course for a golden slam, the holy grail of professional tennis that has only been achieved once before, by Steffi Graf in 1988.
As well as the Wimbledon title, the German, who retired in 1999, won the Australian, French and US Opens and claimed the singles gold in Seoul.
Long road
Minsk-born Azarenka, who moved to the US to train in her early teens and now lives in Monte Carlo, said it was much too early in the season to be thinking about matching Graf's feat.
"It's one of the hardest things to do on the planet," she said. "So you don't want to put yourself in a position that if you fail you haven't achieved what you wanted.
"I always take things step by step and match by match. It's a really, really long road but I do know now what it takes to win those seven matches in a row (at a grand slam) and I can tell you for sure that it's a lot."
Known for the piercing shrieks that accompany each of her strokes, Azarenka attributes her rise to the top to a new maturity and the hard work of her team, including coach Sam Sumyk and physio Jean Pierre Bruyere.
She also has a new member of her entourage in former world number one Amelie Mauresmo, who joined last month just before Azarenka played the clay event in Stuttgart, where she lost in the final to world number two Maria Sharapova.
"She's here so that she can hopefully bring something that will help us push forwards," Azarenka, who is making her fourth appearance in Madrid, where she lost in last year's final to Petra Kvitova, said.
"She looks, she gives her opinion and she is the same as any other member of my team. She doesn't have a specific role."