WASHINGTON - NBA players, including Kobe Bryant and LeBron James, joined ongoing nationwide protests against police violence on Tuesday night.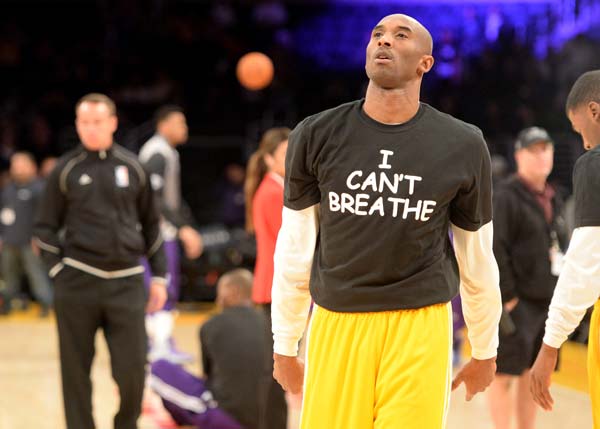 Los Angeles Lakers guard Kobe Bryant (24) wears a t-shirt during warm ups before the game against the Sacramento Kings to show support for the family of Eric Garner at Staples Center. [Photo/Agencies]
Renewed protests erupted last week after a grand jury decided not to charge a white New York police officer over the chokehold death in July of a black American Eric Garner.
In the warming up for a Tuesday night home game, Los Angeles Lakers star Bryant and other players donned T-shirts with the words "I CAN'T BREATHE".
Cleveland Cavalier star LeBron James and others wore similar shirts before a game at the Barclays Center in the Brooklyn borough of New York on Monday.
The decision not to charge Pantaleo came roughly a week after a Missouri grand jury had failed to indict white police officer Darren Wilson for fatally shooting black teenager Michael Brown in August in the St. Louis suburb of Ferguson.
The two killings have highlighted strained relations between police and black Americans, rekindling a national debate over race relations in the country and spurring weeks of protests in major US cities.
In Berkeley, California, hundreds of people faced off against a line of officers in riot gear outside police headquarters on Tuesday.