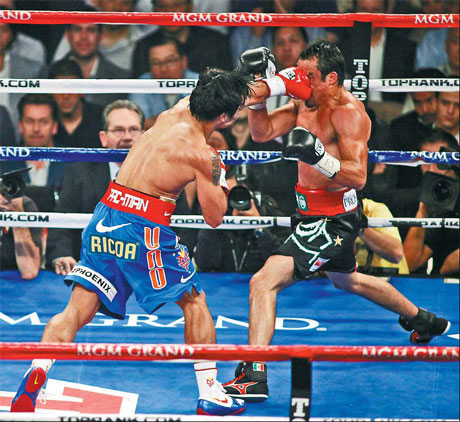 Manny Pacquiao (left) of the Philippines lands a shot against Juan Manuel Marquez of Mexico during their WBO welterweight title fight in Las Vegas, Nevada. Pacquiao beat Marquez on a controversial decision, 114-114, 115-113, 116-112. [Photo / Agencies]
Marquez storms out of the ring after judges award close match to champ
LAS VEGAS - Manny Pacquiao escaped again, in a decision that left Juan Manuel Marquez fuming once again.
The Filipino sensation was taken to the limit on Saturday night before winning a majority decision that infuriated his Mexican opponent and most of the sellout crowd at the MGM Grand arena. The win may have been close, but Pacquiao still managed to continue a remarkable run that has made him the most exciting fighter in the sport, and retain his WBO welterweight title.
In a bruising battle against a counterpuncher who was both accurate and fast, Pacquiao needed the final round on two scorecards to pull out the win. He got it, even though a third judge scored the round in favor of Marquez.
As boos - and cans and bottles - rang down on the ring, Pacquiao celebrated another victory and another huge payday.
"My fans are very happy because they thought I won," Pacquiao said.
He did, but by the narrowest of margins. That was perhaps to be expected considering the previous 24 rounds the two had fought were just as close.
Pacquiao won the 144-pound (65-kilogram) fight on two scorecards, while the third ringside judge had it a draw. Marquez was so upset after the decision was announced, he stormed out of the ring.
"This was the second robbery and this one was the worst," Marquez said. "We won with clearer punches."
Pacquiao won some rounds with sheer aggression, while Marquez won others with brilliant counterpunching. He picked Pacquiao apart with right hands almost every time he tried to get inside, and landed hard flurries throughout the fight.
One ringside judge had it a 114-114 draw, while two others favored Pacquiao by 115-113 and 116-112. The Associated Press had it 114-114.
"It's hard when you're fighting your rival and the three judges, too," said Marquez, who was a 7-1 underdog.
The sellout crowd threw bottles and cans toward ringside after the decision was announced, with one full can hitting a ringside writer.
It was the 15th straight win for Pacquiao, who earned a minimum of $22 million while improving his record to 54-3-2. Marquez, who earned $5 million, fell to 52-6-1.
Associated Press