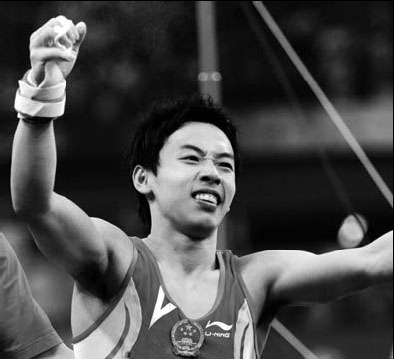 China's Zou Kai reacts after competing in the men's horizontal bars final of the artistic gymnastics event of the 2008 Olympic Games in Beijing on Aug 19, 2008. Zou, who won the gold there, will seek another victory at the Tokyo World Championships. [Photo/Agencies]
BEIJING - Huang Yubin, head coach of the Chinese gymnastics team, said Beijing Olympic champion Zou Kai remained an important part of the team at the 2011 Tokyo World Championships, though he needs to improve in the pommel horse and vault events. The 23-year-old, who won three gold medals in the floor, horizontal bar and team events at the Beijing Olympics, missed the 2010 Worlds in Rotterdam due to inconsistent performances in the individual events, but he has returned to the lineup as substitute at the Worlds in Tokyo.
"Zou has an important role in our team. Although he didn't take part in the World Championships last year, he won three medals at the Beijing Olympics and is capable (of achieving good results)," Huang said. "A new team needs to find new balance, therefore Zou was not at last year's event due to our weakness in men's rings and pommel horse at that time.
"While he has made considerable improvement in these two events during the year, and we are no longer inferior in the events, it gives us more chances to win gold medals," Huang said.
Zou knows his strengths and weaknesses.
"My strengths are the best in the world, but my weak events are also the weakest," said Zou, who claimed a gold in the horizontal bar and a silver in the floor routine at the 2011 Artistic Gymnastics World Cup in Belgium.
"From being on the outside to becoming a substitute proves I have made improvements, but it also tells me I need to make more efforts and I still have a long way to go."
Meanwhile, Lu Bo, 26, had to withdraw from the squad due to injuries to both wrists, which had affected him since last year's Worlds.
"I was diagnosed with a bone fracture and soft-tissue injury at the time. It has been almost a year, but my wrists still hurt," said Lu, who took part in five competitions in the team event at the 2010 World Championships. However, the veteran has not given up hope of competing at the London Olympic Games.
"All my teammates have told me not to give up," Lu said. "I have less than a year to prepare for the Olympics, and what I hope to do is recover from the injury as soon as possible."
China Daily