Improving citizen's cultural access
Strategic, city-wide innovation brings residents better community activities and broadens resource availability
The local government of Dongying, Shandong province, has promised greater resources to enhance civil cultural services in both urban and rural areas.
In recent years, the city government has been continuously emphasizing the development of such services, which are an important part of its infrastructure. Rural areas have especially benefited from the progress.
To support its different civil cultural services, the city government has invested 2 billion yuan ($287.7 million) in infrastructure development, including a number of theaters, libraries, art exhibition centers, sport centers and museums.
Increasing digital culture squares is one program that the Dongying government has been working on. Digital culture squares are a public functional space with free access for every resident, equipped with free Wi-Fi coverage, performance stages, LED screens, exhibition spaces and workout facilities.
"We can do a bit of exercise here during the day and use this as a public dance hall at night," said Zhao Xincui, a local resident. "There are many entertaining events happening here and we can use the Wi-Fi here too."
The city government aimed to build 100 digital culture squares in the city's urban district by the end of this year, all with free Wi-Fi access.
"To help more people have access to the internet, this year the government has brought Wi-Fi services to 100 open squares," said Zhu Bingwei, an officer at the culture service office of the Dongying district of the city.
But free internet is not the urban area's privilege alone. The city's government has vowed to make sure everyone has free access to Wi-Fi. Therefore, there will be free internet coverage at 200 countryside theaters by 2017.
"With the free Wi-Fi, our residents can read six daily newspapers for free. We will also provide free access to information such as public transportation, tourism and education," said Liu Tongshun, the section chief of the bureau of culture, broadcasting, television, press and publications in the city.
Accessible and efficient
The local government began providing "culture cards" in September, which grant cardholders special discounts at more than 80 places, including bookshops, theaters, internet bars and cinemas. The cards are provided to citizens for free.
"We are planning to issue 10,000 cards to citizens as our first users. Among them, 2,000 will be provided to people with disabilities," said Guo Shumei, Guo Shumei, an officer at the bureau of culture, broadcasting, television, press and publications in the city. "We want our citizens to have access to cultural services and activities at affordable prices."
In another innovative move, the city government has experimented with a new library system to solve the shortage of library resources in rural areas. Established in 2016, the system makes the books in the city's open library accessible for the residents in the countryside.
It also connects bookstores to public libraries, helping libraries identify demand for new books and transmit purchase decisions to the bookstores much more quickly.
To improve its civil cultural services is not a new mission for the city government. For the past six years, the city government has been working ceaselessly to increase the reach of local culture and to provide more entertaining activities for citizens.
Since 2011, the city has organized nearly 20 public shows, three dancing competitions and three culture and art festivals.
renxiaojin@chinadaily.com.cn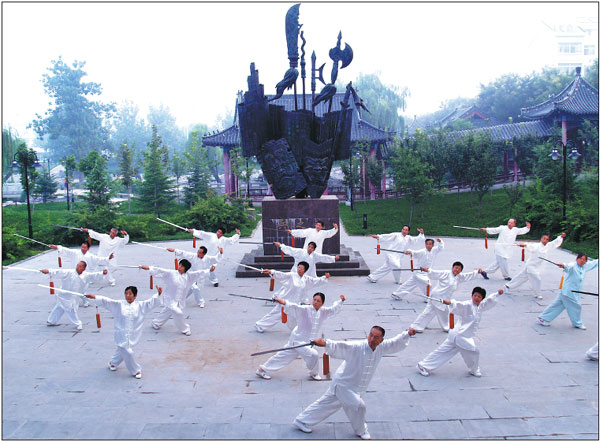 People do morning exercises in a square in Dongying, Shandong province.Photos Provided To China Daily