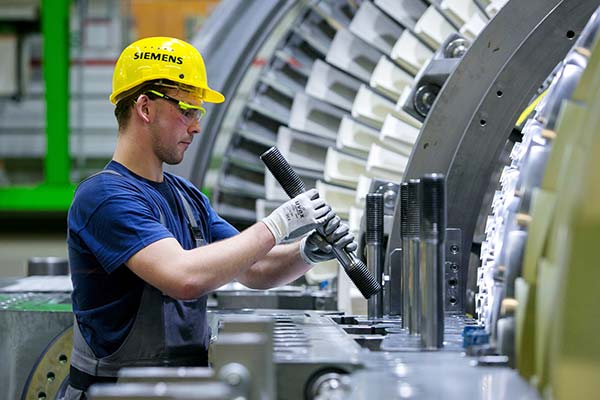 An employee checks the fit of a bolt on a H-class turbine on the assembly line of Siemens AG's gas turbine factory, in Berlin, Germany.[Photo/Agencies]
Suzhou set to host new hub, total staff to exceed 300 researchers by the end of this year
Siemens AG will build an innovation center in Suzhou, Jiangsu province, in September to develop digitalization-focused technologies, products and solutions, company officials said on Tuesday.
Zhu Xiaoxun, head of Siemens Corporate Technology China, said the center will deploy resources for technical innovation and application in the fields of intelligent manufacturing, robotics, modern logistics, big data, information security and smart city, with a strong focus on digitalization.
The company didn't disclose the cost of the new center, which it said will service the company's various divisions. The German engineering and electronics conglomerate established its first innovation center in intelligent manufacturing outside Germany in February in Qingdao, in eastern China's Shandong province.
The group said the combined staff numbers of the two innovation centers will exceed 300 researchers by the end of this year.
Keen on boosting its earning potential, Siemens said it will also deepen partnerships this year with State-owned enterprises, to jointly deploy intelligent manufacturing in the iron and steel, shipbuilding and aerospace industries.
Siemens signed a number of cooperation deals with SOEs including China Shipbuilding Industry Corp, Baosteel Group, China Electronics Corp and China Aerospace Science and Industry Corp last month. The deals aimed at developing modern manufacturing, another step forward toward the strategic alignment of German industrial strategy "Industry 4.0" with "Made in China 2025".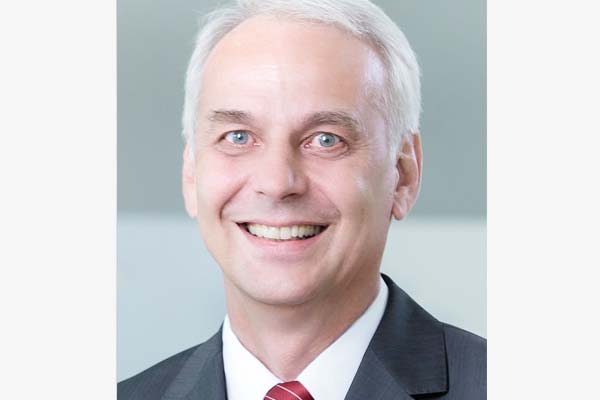 Lothar Herrmann, Siemens China president.
Siemens China President Lothar Herrmann said that his group will focus on the electrification, automation and digitalization growth areas, as well as form partnerships with more local companies to retain stable growth.
"In the manufacturing industry, interlinked and intelligent machines can communicate with each other via digital technologies and autonomously determine the best possible production path," Herrmann said.
"This means a fundamental improvement on traditional ways of manufacturing," he added.
Siemens said it will increase investments for research and development by 300 million euros ($326 million) to a total of 4.8 billion euros globally this year, as well as deploy more resources and technologies in the Pearl River Delta region, one of China's traditional manufacturing bases.
"Investment in the right technologies makes digital transformation possible. Enterprises at various stages of development should follow pragmatic technical road maps based on their real situation," said Shi Yong, vice-president of Beijing-based China Machinery Industry Information Research Institute.