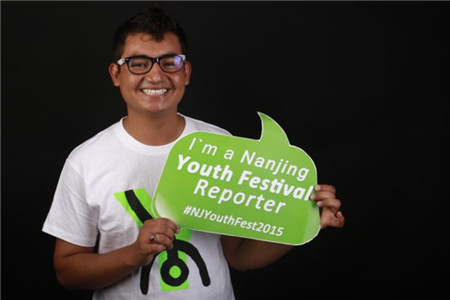 Ali Qadir was a student reporter during the Nanjing Youth Festival. [Photo/provided to chinadaily.com.cn]
Ali Qadir (李卡), a Pakistani student from Nanjing University of Aeronautics and Astronautics, shares his stoy with us.
China is the only foreign country I have been to. Before this I haven't travelled at all due to busy school life. As my friends used to say "Travelling is one of the factors of life experiences." I was thinking "I don't know when my travel is going to start?"
We have a small family business in Pakistan. My elder brother used to export some goods from China to Pakistan. I was attached in his business since I was 10 years old. While studying my high school, I made a plan that I will do my bachelor studies in a Chinese University in any major related to business. I always used to promise my elder brother that I'll go to China and after completing my study, I will fully support him in his business.
After graduation from high school, I started my journey and I sent my form to NUAA. I got my admission notice and came to China. NUAA is the beginning of journey towards my dream and destination. On arrival in NUAA, Laik (my senior friend) told me to go and meet my coordinator. That day, I met a kind, sweet and helpful lady as my coordinator. I introduced myself and talked to her. She gave me a Chinese name; I was feeling proud and happy to have a Chinese name.
Our classes started and each day was a surprise for me. I was facing everything new and strange. Gradually, everything became used to for me. Life in NUAA is one of the best parts of my life ever, here I learned many things. I met different people; I came to know about different countries, different cultures, different civilizations and different languages.
I have brought something from my home country and NUAA provides me the opportunities to share them. I am the representative of my country and a member of my family, NUAA provides me the opportunities to share my culture, to share my ideas and to share my feelings. The friendly environment of NUAA compelled me to explore myself. Every day I enjoy my life more and more.
As I have told in my introduction, I want to be a social figure and to work for others. This thinking mindset brought me and involved me in social activities. And now a day's 70 percent of my daily schedule is covered with social activities. My friends ask me, "What do you get doing these things?" I always reply, "I get whatever I want. Satisfaction and success, I want to sacrifice my whole life to help people and society. Aim of my life is to do something for society". I am a young member of society and I have the responsibilities to work for my society. (Here, I mean society as my friends, classmates, students, teachers and everybody I see in my surroundings). I feel myself as a responsible person and I get hurt whenever I couldn't do something for someone. I found many good friends during my life in NUAA, each of them have a different story, a different life and a different destination.
I want to write something about my Chinese friends, they are quite friendly and hard working. The most interesting thing about Chinese friends is that, in first introduction session they come to know about me, my country, my culture and everything and then they compare each aspect with their own ones. In this way I and they both know each other very well. I wish and I want to write and capture every moment of my life in NUAA. And I also want other international students to share their feelings and ideas about their lives in NUAA. Recently I have joined the NUAA Newspaper team as a journalist. You will see my upcoming articles regarding different issues on NUAA Newspaper in coming days.