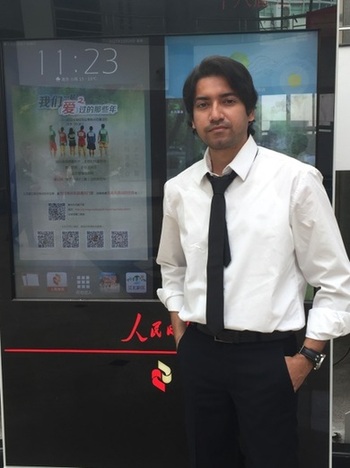 Khurram Hussain Raza (胡森), a Pakistani student at Nanjing University of Science & Technology, shares his story of Jiangsu with us.
Exploration has been an integral part of my adventurous life so that I have a great passion and enthusiasm in historical and natural places. China has a great reputation in kaleidoscopic tourist attractions coupled with diversified cultural heritages, sensational geographical variations, exquisite hospitality, delicious and internationally acclaimed cuisines, safe and stable social environments, and amicable people, representing a paragon of utopia.
This itinerary is based on feelings and emotions brought by the splendid tourist points, delicious Chinese food and gracious hospitality of Jiangsu.
Jiangsu is one of the most significant provinces at eastern coastal of China famous for its capital and metropolitan city "Nanjing", a city well known for its historical background.
Before exploring this province, I had a belief that some kind of special destiny was waiting for me. But after arrival at Nanjing, I realized that the special destiny was exactly to explore this magnificent province. My zeal for natural and historical places was satiated by the pulchritude of some salient and attractive tourist points including Purple Mountain, Nanjing Museum, Xuanwu Lake, Sun Yat-sen Mausoleum, Ming Palace, Chaotian Palace, Sifang Art Museum and Jinghai Temple, which are a few prominent jewels engraved in the heart of Nanjing.
The curiosity engraves itself in human nature; therefore, I was completely flabbergasted by the architecture of those buildings and natural inheritance. Every tourist place has its own distinct features that incite my curiosity to a higher level. Disciplined and organized administration and management have ensured the security, orderliness and sanitation of tourist attractions.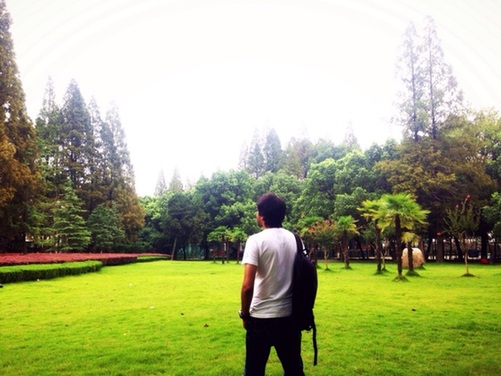 A refreshing green day for Khurram Hussain Raza in Nanjing, Jiangsu. [Photo by Amy Guo/provided to chinadaily.com.cn]
Introductions and instructions are given in both English and Chinese with descriptions about the main tourist buildings including the details of their appurtenances. The shops sell souvenirs that are the reflection of Chinese cultural stuff including handicrafts, calligraphy, paintings, traditional musical instruments with exceptional performances, and variegated kites which head towards the sky and make the kids smile and energetic.
In short, the attraction was appealing enough to cater the attention of all ages. China has been transformed into a receptive society for foreigners despite their nationalities and ethnicities. The foreigners receive a privilege based on egalitarianism from elites to the proletariat class, certainly an indication of sacred intention, esteem and affection.
Moreover, it is important to appreciate Jiangsu for its educational system, which produces many intellectuals under the supervision of conscientious pedagogues; the infrastructure is praiseworthy under the guidance of skilled people, and the commercial areas have grand cinemas, international food chains, famous coffee shops, branded electronic items, world class fabrics, amusement parks, splendid departmental stores, large gaming zones and other entertainment.
To recapitulate my experience of Jiangsu's itinerary, it's been an amazing time to get in contact with all the wonderful places, food and people.
The moments in the form of golden memories have been created and affected my mind and heart in a positive way. This experience is certainly a benchmark for the other countries to promote their tourism and to emerge as receptive societies with innovative and creative ideas in all the facets of life. I am optimistic that Jiangsu province will carry its legacy further and I highly recommend people to explore and probe their curiosities in this fascinating world.