Mirza Nasir Baig (米纳尔), a Pakistani student from Nanjing University of Science and Technology, shares his story with us.
It was a cold, freezing day of November when I had the first savor of Nanjing's weather. Winter is coming and yet, I do not feel bitter about it. The locals surely do not look forward to this weather as it hinders their everyday routines. For them, going out in a freaking cold weather is suicide. Not for me though. In fact, I feel amazed with the thick fog wrapping the uppermost part of the buildings and the peak of the pine trees. Coming from a country with a very hot temperature which reaches up to 40 degrees Celsius, I have a bit of excitement in witnessing a totally different environment.
I am a Pakistani student studying at Nanjing University of Science and Technology which is among the top universities in Jiangsu province. I guess the most thrilling part of staying in Nanjing as a student is visiting places I have never known before. It is also the first time that I celebrated my birthday in another country and there is nowhere I could best enjoy it but in Nanjing. With few of my buddies I met here, I blew the candles for my 25 th birthday in a cozy café near my university. The café was decorated with foreign flags, hanging on the ceiling but unfortunately, I did not see my country flag. Regardless of that, I still relished the place because of the warm greetings from my friends and the café staff.
The highlight is my visit to the Dr. Sun Yat-sen Mausoleum located in Purple Mountain in the east suburb of Nanjing City. It is a must-see destination not only for tourists but especially for Chinese people from other provinces. Here lies the statue of the historical leader, Dr. Sun Yat-sen also known as the Father of the Republic of China. Before you could reach his holy abode, a 320-staircase would await you from below. The scenery as you reach the top is just mind-blowing. Besides that, I was more observant of the old people who bravely climbed the mountain to give honor to the great father of their nation. It got me thinking how these people could endure the height without even asking help from others. As I was looking at an old man wearing a professional camera strapped around his neck, I began to create a silly thought that maybe this man is having the last walk in his life. I guess he even had a journal to write on.
At the entrance of the road toward the mausoleum stands a great marble (memorial archway) on which is written "Bo Ai" meaning "love". Indeed, a visit to this place was both a tribute to magnificence and a celebration of love. I marveled through a wonderful sight and shared the trek with a very special person I finally had a day to remember for the rest of my life. Say, no matter where you are, it is who you are with that makes it all complete.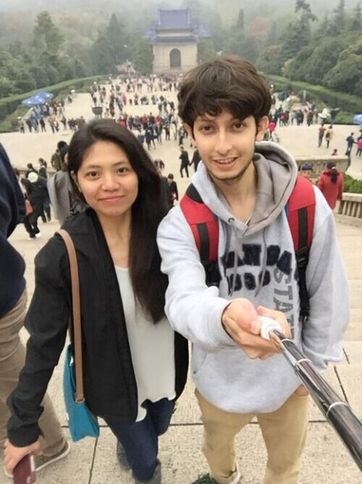 Mirza Nasir Baig visits Dr Sun Yat-sen Mausoleum in Nanjing. [Photo provided to chinadaily.com.cn]