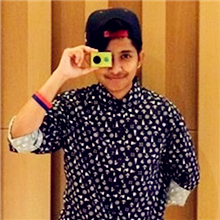 Sanzira Nusrat, a student from Bangladesh studying at Xuzhou Medical College, shares her story of Jiangsu with us. [Photo provided to chinadaily.com.cn]
Sanzira Nusrat, a student from Bangladesh studying at Xuzhou Medical College, shares her story of Jiangsu with us.
I was excited about my first winter in China for many reasons. The major thing was that I had never seen snow until that instant of my life. I had heard from my friends that the past year it had snowed for a week. Until witnessing it by myself, my imaginations were held captive to the words written down by authors in novels or visually confined in movies. How could I have foreseen the magical experience that was about to unfold and that it would educate me on life in many ways.
I was pretty upset because it was almost the end of winter, yet I did not get to see snow. But to my surprise, this one morning when I woke up and gazed out the window, I saw almost everything was covered in white, as if nothing at all were smeared. Undeniably it had snowed the entire night. Everything looked so peaceful, but something just did not feel right to me. The vibrant colors of the trees and bushes were missing and so was the chirping of birds. I had this churning feeling in the pit of my stomach like something was off. Snow does not bring about auspicious or exhilarating feelings, it just makes us feel blue.
So I set off on my journey to the skiing park in the rural area of Xuzhou, which by the way had made my entire first experience with snow a rather fascinating and cherished one.
On my way to the bus, I slipped and tripped. To my misfortune, my camera fell from my hand and I heard a cracking noise. The camera lens had broken and it brought me to tears. I almost gave up on going to the trip but then I gathered my thoughts and realized that there was no point on sobbing and making the day worse by not going to the place that I have eagerly been waiting for.
When I saw the place through the window, I was overjoyed and thrilled to see remnants of snow on the slope. It was filled with snow even though there was no current snow fall. And I could not wait to get myself in there to ski, even though I absolutely had no experience on that matter.
I paced up and down the slope trying to get the hang of skiing but it did not seem to work for God knows what reason. I was really good at free line skating and also with skateboards. On the contrary, skiing which resembled skating in snow appeared to be nearly impossible until I willingly surrendered my thoughts about being concerned with every modern proof of experience since I was unable to take picture.
As I tried one last time with my restless feet, the moment wrapped me in sheer beauty that captured my mind, the gush of wind captivated my soul. I was skiing properly for the first time and to hold such moment is a once in a lifetime experience if only you take a chance and live them.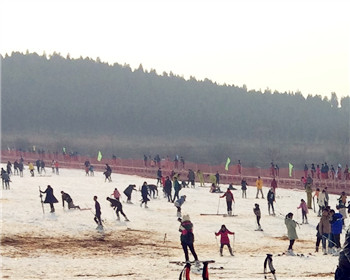 The skiing park in Xuzhou is popular. [Photo provided to chinadaily.com.cn]