207 killed, 50,000 stranded in N.India floods
NEW DELHI - At least 207 people have been killed while 50,000 others, mostly pilgrims, still stranded in the northern Indian state of Uttarakhand which was badly hit by monsoon floods Sunday, Home Minister Sushil Kumar Shinde said Friday.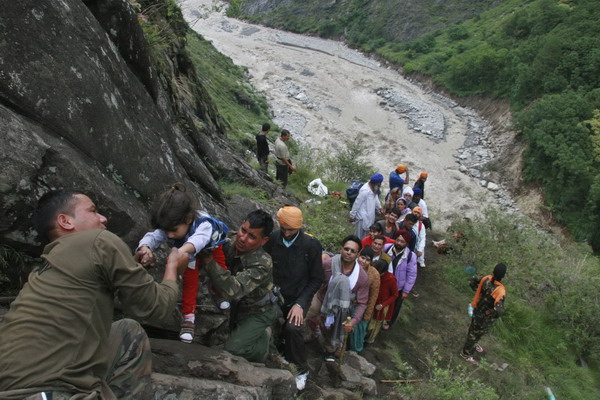 Soldiers rescue stranded people after heavy rains in the Himalayan state of Uttarakhand June 18, 2013.[Photo/Agencies]
"Some 207 people are confirmed dead in floods in the state. We have evacuated more than 34,000 people but some 49,000 to 50,000 people are still stranded there. Efforts are being made to rescue the stranded people in Uttarakhand," the Home Minister told the media in state capital Dehradun, after a meeting with disaster management officials.
Floods and landslides, triggered by heavy rainfall, hit northern India Sunday, with Uttarakhand being the worst affected state where hundreds of buildings were washed away. And those killed included local residents as well as pilgrims visiting the state.
The Home Minister, who is to visit the flood-hit areas Saturday, said the death toll could rise further, though rains have stopped in the state famous for its several pilgrimage spots.
The Indian military has been continuing its rescue operations.
While the Indian Air Force has deployed Advanced Light Helicopters to reach the difficult terrains of the hilly state and evacuated over 1,500 people this morning, the Indian Army has deployed more than 8,000 of its troops working alongside para- military forces.
"The Indian Air Force has committed 13 more aircraft. The total number of aircraft pressed into service is now 43. It is also activating landing grounds at two more places," Indian Information and Broadcasting Minister Manish Tewari said.
He also said that the Indian Railways has been running special trains from the state's Haridwar town to carry the stranded passengers free of cost.
Apart from Indian Prime Minister Manmohan Singh releasing millions of rupees for floods relief, the country's ruling Congress chief Sonia Gandhi has asked the party's Members of Parliament and state legislators to contribute their one month salary for Uttarakhand's natural calamity.
However, the Indian media says that the floods are "man-made", due to rampant construction, mining and massive power projects in the northern states.
According to The Times of India newspaper, "the growing frequency of extreme climactic events is emboldening the claim that hydropower projects, encroachments of riverbeds by buildings, and blasting of mountains to build roads are making hill states more susceptible to disaster."  
Another well known The Hindu newspaper says, "For man's excesses and follies have also been a factor in the destruction that nature has wrought."
But, the Indian Information and Broadcasting Minister has refused to comment on the reports, saying that it was not the right time to discuss such issues.