Israel, Central European countries sign joint statement on migration, Mideast peace process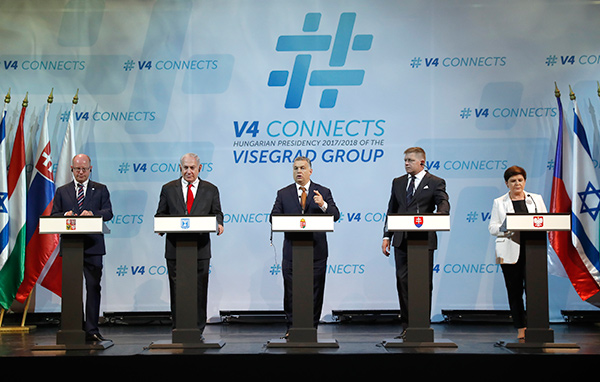 Israel's Prime Minister Benjamin Netanyahu (2nd L), Visegrad Group (V4) Prime Ministers, Czech Republic's Bohuslav Sobotka (L), Hungary's Viktor Orban (C to R), Slovakia's Robert Fico and Poland's Beata Szydlo attend a news conference in Budapest, Hungary, July 19, 2017. [Photo/Agencies]
BUDAPEST - Israeli Prime Minister Benjamin Netanyahu and the prime ministers of the Visegrad Four countries (Poland, Hungary, Czech Republic and Slovakia) signed a joint statement here on Wednesday on global issues such as migration, fight against terrorism and the peace process in the Middle East.
The statement was adopted on the occasion of the annual summit of the prime ministers of the Visegrad Four and Netanyahu, who is on an official visit to Hungary, the first by an Israeli prime minister in 30 years.
The leaders agreed to exchange views on their efforts aimed at fighting terrorism and countering violent extremism and incitement, and agreed to explore the possibility of further strengthening joint cooperation in the areas of defense and defense industry, cyber security, hybrid threats, non-proliferation and information and know-how sharing.
The leaders agreed that tackling the current migration crisis requires addressing its origins and shared the view that close cooperation with the states of origin and transit should be maintained.
They emphasized the importance of diplomatic efforts aimed at peaceful resolution of lasting conflict and stabilization. They also discussed the need to foster good governance and sustainable economic growth in states of origin of economic migrants.
They strongly and unequivocally condemned recent terrorist attacks, including those in Israel and across the world, stressing that terrorism continues to be a troubling phenomenon of our times and represents a serious threat to international peace and security.
About the Middle East Peace Process, the leaders of Visegrad Four countries affirmed their support for a viable two-state solution and the right of Israel to live in security and peaceful co-existence with all its neighbors, including Palestinians. They stressed their opposition to any attempt to undermine Israel's legitimacy.
One of the key points of the statement is the goal of developing the relations between the European Union (EU) and Israel. The five leaders reiterated their commitment towards the enhancement of EU-Israel relations in areas of mutual interest, including cooperation on economic, political, strategic, regional, innovation, and people-to-people issues. To this end, they underlined the need to promote an improved relationship between Israel and the EU.