Former CCTV anchor sees clear skies ahead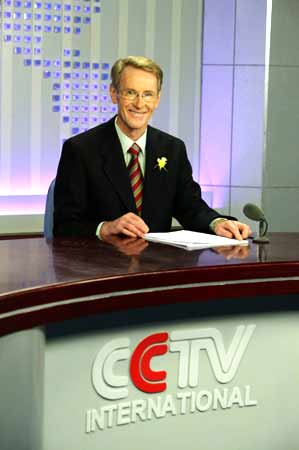 Edwin Maher is seen in a news studio of the CCTV International in this file photo. [Photo/CCTV]
As the first non-Asian news anchor on Chinese television, Edwin Maher's face is known to millions. Through him, viewers at home and abroad have learned of the profound changes taking place across China.
For the New Zealand-born broadcaster, who has lived in Beijing for 14 years, one of the biggest changes he has witnessed in the past five years is the improved air quality in the Chinese capital.
He remembers that the first few times he attempted to get a bird's-eye view of the vast cityscape from the Beijing Television Tower, one of the tallest buildings downtown, he was prevented by thick smog.
"It was my first winter. I had to wait for nearly two weeks until a strong overnight wind blew all the polluted air away and left a crystal-clear sky," said Maher, whose career included time as a weathercaster in Australia. "I climbed to the top of the tower, which is about 330 meters high, and saw the amazing ancient city. It's so beautiful.
"In recent years, Beijing's air quality has got better. Last year had 12 more 'blue-sky days' than in 2015," he added. "Behind this achievement is the government's strong determination to control pollution, and the increased public awareness of health and environmental protection."
Maher, now in his 70s, decided to move to China in 2003 after receiving a surprise offer from China Radio International.
After coming across a CRI news bulletin while tuning an antique shortwave valve radio, he had emailed the station to let them know, adding in details about his background in radio and TV. Unexpectedly, he received a reply offering him a job as a voice coach.
After completing his contract with CRI, Maher moved to China Central TV, the State broadcaster, which in 2004 made him the first non-Asian news anchor on its English-language channel, CCTV-9, later renamed China Global TV Network. He remained until his retirement last year.
During his initial years in Beijing, Maher couldn't speak Chinese, although the language barrier was no major obstacle. "I'd usually ask for help from young people who seemed to be college students, but many would say 'Sorry, I don't speak English'," he said. "Now, tourists from English-speaking countries can feel free to ask for help on the street.
"As the country is stepping onto the global stage and playing a crucial role, the popularity of English among the public is growing. Now, in big cities, most people-from primary students to police or taxi drivers-can speak at least a few sentences in English."
Fourteen years ago, many Chinese still had a strong curiosity about foreigners, according to Maher, who recalled a man who tried to sell him a fake Rolex watch one morning while he was sitting enjoying lunch in a park near his office.
"I said'No thanks', but then he sat down next to me and looked at my arms in a curious manner. Gingerly, he touched the hair on my arm and then pointed to his own smooth arm, all the while with a big smile, to show me the difference in appearance between Chinese and Westerners in his eyes.
"Now look at Beijing, Shanghai and other metropolises in China, which are being visited by more and more foreigners, some of whom have even decided to live here, just like me," he said. "Cities have become international communities, ... and China is now the world's second-largest economy."
The made-in-China brand has also seen a massive overhaul in its image as the country has shifted from copying the best to being the best, Maher said. To prove his point, he showed his Xiaomi smartphone, which he brought two years ago for less than 2,000 yuan ($300).
"Cellphones made by domestic brands are a friendly price and perform excellently," he said. "I know lots of foreigners who use cellphones made in China. The country is an emerging superpower that is surprising the world with its innovation and marvelous power of action."
He also cited high-speed trains as an example of China's achievements.
"I've taken the bullet train to Shanghai and other cities. The 1,400-kilometer trip (to Shanghai) takes less than five hours. It's very comfortable, and the service is so good," he said.
According to China Railway Corp, the network operator, high-speed services now connect 29 provincial areas and cover a total distance of 20,000 km.
"Many foreigners still only know China through travel or culture programs on TV, but you get a different feeling when you really are here," Maher added. "To know its people, to learn how the country makes those miracles happen, you should come to China."
What do you feel has been China's biggest achievement in the past five years in environmental protection or in the field of ecological civilization? What's been the most notable change?
I was born in New Zealand and lived in Australia for years. Both places have very good environments. When I first came to China, I noticed the sky in Beijing is dark. But the government is taking action to close heavily polluting industries or move them away from the capital. I've noticed the sky here is much clearer, and the air is much easier to breath.
That makes residents happier about the environment in which they live. It's a basic need for all of us to enjoy daily life. Certainly, progress has been made, particularly in cities like Beijing and Shanghai. The tide is turning, and we can look forward to a clearer future.
What's the most memorable experience you've had in China, or related to China?
I have relatives in Australia who have never been here. I send them pictures of places I've visited, and many of them say to me, "Oh, I didn't realize China has such a variety of beautiful scenery." Last month, I visited Yunnan province and we spent a week in Dali and Lijiang. Going there really opened my mind, looking at the sky and seeing such a magnificent blue. The sun is so bright, and for the first time in my life my hands were sunburned. But that was a small price to pay.
Another time I was stunned by the scenery was when I went to the Xinjiang Uygur autonomous region three years ago. That was an unforgettable experience. I know people in many countries have no idea about the variety of scenery that exists in this country. I hope they will have an opportunity to come here and see it.
What three words would you use to describe China today, mainly in the environment?
Safe, secure, home. As a foreigner who has been in China for 14 years, one of the things I've found here is that it's a safe place to live, particularly Beijing, despite it being one of the biggest cities in the world.
I feel welcome here. Security is another important thing. Some people may feel frustrated at having to go through security checks at subway stations, but to me, I'll happily do that because it's better than worrying about security and the possibility that something might go wrong.
Also, China is home to me. It has a relaxed environment and it's easy for my family to visit anytime.
What are your expectations for the upcoming 19th CPC National Congress? What are the key issues you care about most?
The congress will have many issues to tackle, including political issues and how the country functions, like the economy and financial risk management. One key area that will likely receive a lot attention is China's aim to bring those still living below the poverty line up to the standard of other Chinese. That's a big aim for the central and provincial governments, but China has already lifted millions of people out of poverty, and I believe it will happen. Another key issue is the environment.
There are still some parts of China that haven't met the requirements for reducing pollution and providing cleaner air. China has taken many steps to reduce harmful emissions and go green, so I hope the Party congress will remember to make considerable efforts in this area.