Khan Waheed Qamar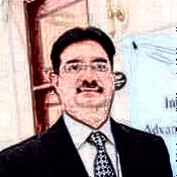 Khan Waheed Qamar, International student from Canada, is now a PhD candidate in Materials Science and Engineering (Key laboratory for Advanced Functional Materials) at Beijing University of Technology. It is worthmentioning that he has a remarkable Chinese name "Hong Qi", which means "Red Flag". Hong Qi is an energetic and pragmatic individual always willing to help others in academic and all fields of life. He believes strongly that "It is not how much we do, but how much love we put in the doing. It is not how much we give, but how much love we put in the giving."
Hong Qi does not only possess an impressive personality but also superior professional competence. Overall he published six SCI research papers and also is a member of IAENG and PVS. Furthermore, he delivered "Keynote speech at ICSMME-2015, (International Conference on structure, mechanical and material engineering) Dalian and currently member of Technical Programme committee (TPC) in International Conference on Material Science and Environmental Engineering (MSEE 2016). He is a coordinator of English corner at Chuiyangliu hospital, Beijing and helping medical staff to learn practical English, in turn this can equip the doctors of hospital to serve the foreigner patients in a better way.
•The Exploration of Growth
He grew up in an educated family of engineers and doctors, which was the natural impetus behind his career goals and successful life. In daily life he is well-organized, well-mannered, meticulous, dependable and reliable. He likes to travel and visited more than 20 countries around the world including England, America, France, Germany, Canada, China, Singapore, Malaysia, Indonesia, Austria, Holland and many more. Few years ago he started his PhD studies but due to unfortunate sad demise of his father and brother, cannot continue the studies and preferred to look after his big family.
It takes a lot of courage to face big problems in life and still move forward with ambitions and energy. To gain more technical skills and enriched living standard, Khan Waheed Qamar immigrated to Canada in the year 2000 and started living in the vibrant city of Toronto. It's like a new birth in another country, where one has to qualify all the regional exams to be eligible for a job. Khan Waheed passed all the examinations with great success and is the meritorious member of International association for Engineers, Ontario association of Certified Engineers and techs, (OACET, Canada), Pakistan Engineering council (PEC) and Pakistan Vacuum Society.
•The Exploration in China
After the accomplishment of master's degree, he started working for a national scientific organization in Pakistan. During this timehe visited china to accept technical training in aerospace technology, henceforth developed an early fervent bond with Chinese culture and people.
During his prosperous career in Canada he yet again planned to pursue the dream of PhD and choose China because of aforementioned love and interest in Chinese culture and life. Chinese name HongQi (红旗) also shows his love with PRC as a great country of loving people.
Khan Waheed Qamar says that, "China as a country involves the creation of a learning environment, in which students are encouraged to think carefully and critically. Express their thoughts in a way that resolves difficulties, rather than glossing over them and BJUT encourages the constant monitoring and reflection of the teaching processes and seeks to improve it and has been successful in conveying, perhaps the most challenging of all notions that underlie higher education, the message that learning requires commitment, hard work, responsibility, and a willingness to take risks. Following these principles has great rewards, not the least the realization that learning can be fun, so study hard, be a good student".
•The Unlimited Road of Exploration
Now after more than two years through his own efforts and consistent hard work to become a skillful researcher, now able to give himself a satisfactory answer. He is a role model in the eyes of other students, but in his heart, just a hard working lucky person, whose mother is always praying for his success.
Due to concentrated efforts on research and studies there is not much time left to participate in other social activities, but he is actively involved in various activities arranged by BJUT and college of international education. Khan Waheed Qamar along with his friends organized a cultural booth on "International day" in BJUT. He is trying to unite people to protect the planet and participate in "Earth hour" environmental activities. On Saturday, 19 March 2016, as WWF's Earth Hour rolled across the world, Khan Waheed Qamar joined online with millions to shine a light on the climate action our planet needs.
He is an inspiration to young students and researchers. He believes that good habits develop good character. We are not born into this world with fixed habits. Neither do we inherit a noble character. Confucius said that the nature of men is always the same, It is their habits that differentiate them. Instead, we are given the privilege and opportunity of choosing which way of life we will follow, which habits we will develop.
Khan Waheed Qamar believes that with success, we do owe great responsibilities for society. Peace in every home, every street, every village, every country, this is his dream. To see each and every human being with a smile of happiness is his wish.