Chinese consultants reveal achievements in rapid business growth
Emerging Chinese company Kmind Consulting on Tuesday released its strategic business consulting achievements during a news conference held in Shanghai. The achievements comprise five major breakthroughs among the strategic industry and secrets of how their business consulting services helped 16 companies achieved rapid growth within two years.
Leng Youbin, chairman of Feihe International Inc, China's largest domestic baby formula supplier, said at the news conference last Tuesday that Kmind Consulting can offer Chinese companies a way to deal with tough problems in marketing. "We have worked with many business consulting firms that didn't solve the company's essential problems. Through a partnership with Kmind Consulting, we launched a product positioning strategy on October 2015 to work out plans for branding, marketing channels and future development."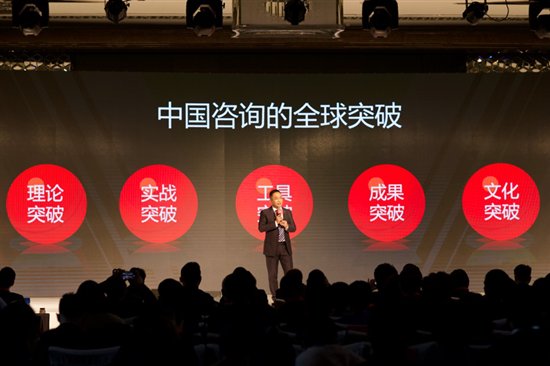 Xie Weishan, chairman of Kmind Consulting company, speaks at a news conference in Shanghai, Dec. 19, 2017. [Photo provided to chinadaily.com.cn]
In the past two years, Kmind Consulting has helped 16 enterprises grow rapidly with the Kmind positioning theory, including Feihe Dairy, a subsidiary of Feihe International, Yadi Electric Vehicle and Flying Credit Loans. Xie Weishan, chairman of Kmind Consulting, said that an innovative competitive strategy consulting 1.0 system was unveiled by Kmind Consulting, which will effectively follow successful modes used by more enterprises.
Based on the process of winning the market competition, the strategy consulting 1.0 system was formulated by a trilogy of competitive strategies consisting of "exploring competition opportunities", "seizing competition opportunities" and "reining in competition". The system subdivides the strategy into 15 modules including market research, competition evaluation and operation scanning, and more than 210 specific aspects.
Customers of Kmind Consulting gained a lot from the positioning theory. Feihe Dairy's high-end infant formula sales increased by 200 percent and the company's overall sales increased by 45 percent over the first half of the year. Yadi Electric Vehicle's high-end sales volume increased 63 percent and the company was successfully listed in Hong Kong in 2016. In addition, Yadi Electric Vehicle sales increased 32 percent from January to July, despite the overall trend of a 20 percent drop in sales in the electric vehicle industry.
"Kmind Consulting will shoulder the unique role of consultation. We aspire to complete 100 cases affecting the process of China's commercial progress in 10 years and become the first leading company in the global strategic consulting field," Xie Weishan said.