2017 "Women's Media Award" announced in Beijing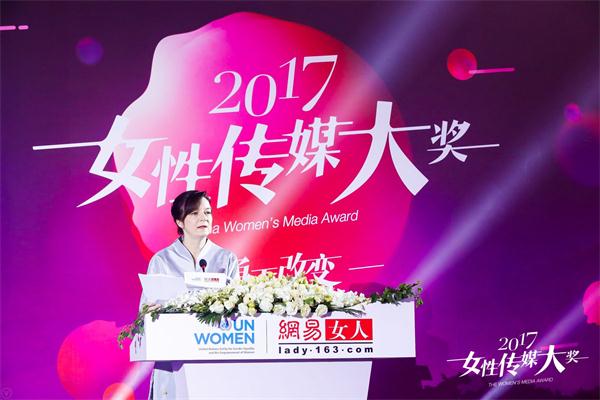 Julie Broussard,  The China Country Programme Manager of UN Women, gives a speech during the Women's Media Award Ceremony. [Photo provided to chinadaily.com.cn]  
UN Women China and its prominent media partner Netease are awarding leading women in the media who have given notable contributions to the fastest growing industries in China.
Fifteen awards are given out to various notable celebrities, including Ms. Gong Linna, Ms. Wu Mochou, Ms. Xu Anhua, Ms. Hui Ruoqi, and Ms. Xi Mengyao amongst other women in various categories, such as the "Female Role Model Award," the "Female Breakthrough Award" and other awards. As for male celebrities, Mr. Wu Zun, Mr. Teng Ger, and Mr. Guo Ke receive the "Male Role Model Award."
The "Women's Media Award" began in 2011. The awards focus on female role models in every field in China. The theme of this year's "Women's Media Award", "Courage to Fight for Gender Equality", pays tribute to the brave women who are actively pushing for gender equality in all fields.
The China Country Programme Manager of UN Women, Ms. Julie Broussard and the Editor in Chief of Netease Media, Tian Hua, give opening speeches. Julie says, "The Women's Media Award is to add voice of the media to efforts to overcome gender inequality. Media's positive portrayals of women are promoting investments with great returns to the whole society."
After careful consideration, the 15 awards are presented to Gong Linna, a singer, founder of new Chinese art music; Hui Ruoqi, Olympic champion from the Chinese women's volleyball team; Lan Tian, prototype of the film "Seventy-seven Days"; Yan Jinxiu, a world-class tunnel expert; Xu Anhua, a famous female film director; He Qiaonv, first Chinese female philanthropist; Wang Jinchu, village official; Fan Yu Su, female worker writer; and Han Liping, an aerospace engineer.
Women and men alike should work together to achieve gender equality. The "Male Model of the Year" awards are presented to Mr. Guo Ke, the director of documentary "Twenty-Two" and the Artist and Singer, Mr. Teng Ger. Mr. Wu Zun, a celebrity dad, won the "Male Achievement of the Year" Award due to his great balance between career and family.
The "Women's Media Award" aim to promote equal opportunities for women in all sectors by honoring outstanding female role models. OMO sponsors the event.