'Silk Road Dialogues' deepens UDNP, Himalayan Consensus Institute cooperation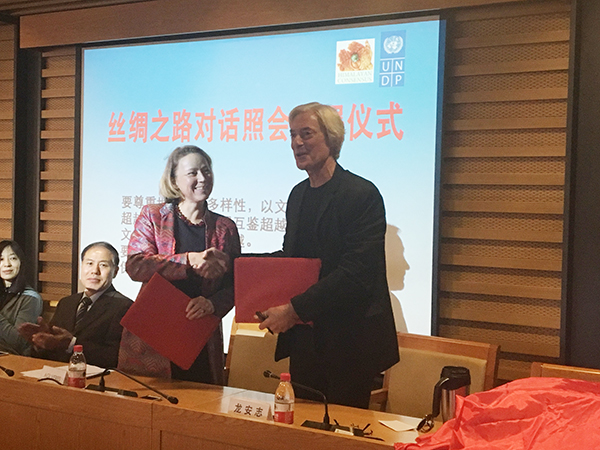 UNDP China Country Director Agi Veres congratulates Himalayan Consensus Institute Founding Director Laurence Brahm (right) during the ceremony Nov 28, 2017, when a memorandum of understanding was signed and a new book launched. The ceremony was held in the library at Beijing Foreign Languages University. [Photo by Wu Zheyu/chinadaily.com.cn]
The United Nations Development Program China Office and Himalayan Consensus Institute, an environmental think tank, entered into a memorandum of understanding November 28, 2017, for the establishment of the Silk Road Dialogues, aiming at building resilience and advancing sustainable development in countries participating in the Belt and Road Initiative.
The Silk Road Dialogues hope to enhance people-to-people connectivity and share analysis and information related to cultural, social and economic aspects across countries of the Belt and Road Initiative (BRI) to reduce risks and mitigate potential crisis and conflict.
Agi Veres, UNDP China Country Director, explained the defined role of the dialogue. "The Silk Road Dialogues will play a key role in promoting the United Nations Agenda 2030 and the Sustainable Development Goals as a reference framework for development in the BRI region, focusing on people at its center."
The Silk Road Dialogues will promote dialogue, research, policies and programmatic activities that build resilience, and sustain peace through further cooperation and understanding among peoples in countries along the Belt and Road.
Analysis and risk mitigation with special attention to climate-induced disruptions and government community involvement in adopting and addressing negative impacts of climate change on development will feature as important aspects of the program.
Himalayan Consensus Institute Founding Director Laurence Brahm added, "The Silk Road Dialogues as a second track can help mitigate conflict at an early stage by addressing root causes, most often connected to economic disempowerment, identity marginalization, or environmental disruption."
Fusion Economics: How Pragmatism is changing the world, a new book, written by Laurence Brahm that was launched during the ceremony, illustrates several new concepts based on new economic assumptions -- such as integration economics, philanthropic capital, value of stakeholders and consumption of conscience -- to offer more diversified thinking for a new global consensus.
Answering questions from audiences, Laurence Brahm expressed appreciation to Chinese authorities for putting ecological civilization into an overall strategic plan and making great contributions to improve people's well-being and the shared human community.
The MOU signing and new book launching ceremony held in the Library of Beijing Foreign Languages University and organized by the Beijing Foreign Languages School of Journalism and Communications, which has been hosting a month long exhibition: Searching for Shangri-La on the Belt and Road a multi-media presentation of film, photography, writings, sketches and installation art from Laurence Brahm's Milllenium Expeditions exploring and documenting the Southern Silk Road and Tea Pony Trail of the Himalayas.