Can 15 m people blow away smog? That's a joke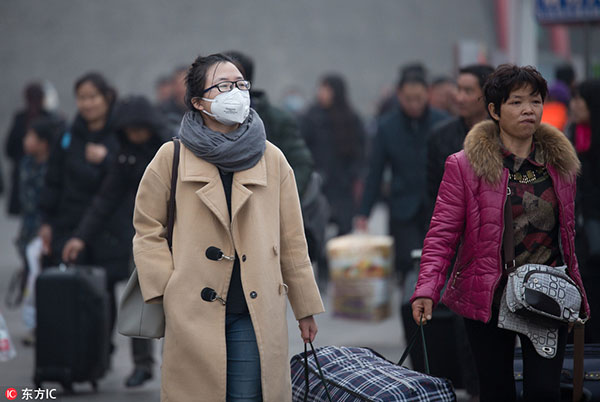 Passengers head home at a railway station in Xi'an on a smoggy day, Jan 17, 2017. [Photo/IC]

Imagine 15 million people waving fans in the same direction at the same time 

That idea appeared on the official website of the State Intellectual Property Office, as a "solution" to free Beijing of smog, because the person applying for a patent argues that so many people waving fans at the same time will produce a wind strong enough to blow smoggy weather away. According to the website, the applicant has passed the first step of patent application process.

It seems the person applying for a patent lacks the most basic training in both social and natural sciences. First, having little knowledge about the science of social organization, he or she does not know how difficult it is to get 15 million people together and get them fan in the same direction at the same time.

Second, clearly a basic calculation has not been done to determine whether the fanning of 15 million people could produce a strong enough wind. Taking air purifiers for comparison, a rough calculation finds that a 700-squaremeter hall, with the height of 3 meters, needs more than 500,000 cubic meters of air flow per hour to keep its air clean. Beijing covers 16,000 square kilometers, which means it is about 22 million times the size of the hall, which far exceeds the ability of human fanning.

Besides, when people fan together, the majority of them make nothing but air turbulence, rather than a strong air flow.

Therefore, such a patent is foolish and all it does is to make people laugh. But do not mistake it being published on the official website of State Intellectual Property Office as it being "approved".

Data from the official website shows the joke application is still waiting for review, and its publication on the site only means the materials have been received. The public could have trust on the experts who will read the materials, and all they need is some time.