Better pay and training to ensure tots entrusted to qualified carers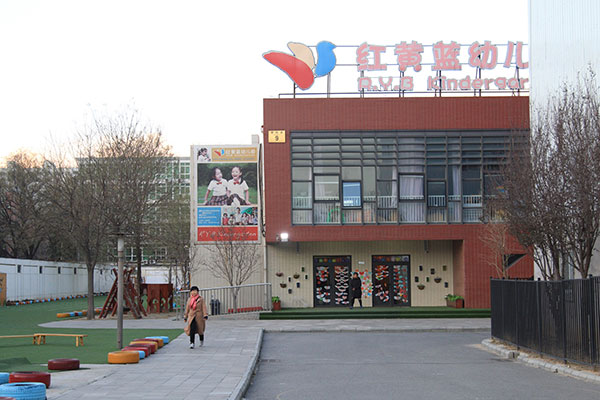 The RYB kindergarten Xintiandi branch in Beijing, Nov 23, 2017. [Photo/IC]
AFTER ALLEGATIONS OF CHILD ABUSE at a kindergarten in Beijing, all kindergartens in the capital are to be staffed with inspectors to oversee their operation, the local education authority announced on Sunday. Beijing News commented on Sunday:
The embattled kindergarten has fired its head and a 22-year-old teacher after she was detained "on suspicion of abusing those under her care". Since last week parents of the children at the kindergarten have been circulating photos of what they claim are needle marks on their children. Some also said their kids had been fed white pills before nap time.
Their claims are still being investigated and hence warrant no premature judgments, but one thing could not be clearer: toddlers need to be put under the care of qualified, compassionate preschool carers, and the latter remain in short supply.
Last year China had a total of 3.81 million people employed as kindergarten staff, with an average teacher-to-student ratio of around 1:12. The official range is from 1:5 to 1:7, meaning at least 2.48 million more kindergarten teachers are needed. That explains why more than 200 Shanghai kindergartens competed to recruit some 100 preschool education graduates of the prestigious East China Normal University in 2016.
Also noteworthy is that a bulk of Chinese preschool teachers are under-qualified, and those qualified have scant interest in taking such a job. Statistics suggest more than 56 percent of kindergarten teachers went to vocational schools and around 22 percent have high school diplomas or below.
Taking care of toddlers who are vulnerable to almost any hazard is not an easy job, because it requires great perseverance and patience. Entrusting kids to insufficiently trained carers is not just risky but also irresponsible.
It must be made clear that preschool education is not as simple as feeding children and getting them to sleep. The job should be given to those who are well trained and come with competitive salary. On the one hand, unqualified teachers must be kicked out of preschool institutes and all staff members must be subjected to strict supervision. On the other hand, colleges ought to recruit more students majoring in preschool education.