Beijing's positive response encouraging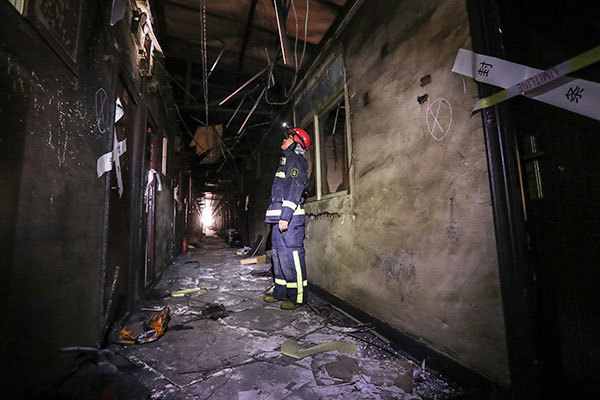 A firefighter checks the site on Sunday of the Nov 18 fire that killed 19 people and injured eight others in Xinjian village, Beijing's Daxing district. [Zou Hong/China Daily]
Beijing Party chief Cai Qi said at a meeting on Monday that consideration must be shown to those people who experience difficulties as a result of the campaign to check safety hazards in places where many migrant workers are living. As well as being people-oriented, the work must not be done in haste, he said.
The campaign was launched after a fire, reportedly caused by faulty electrical wiring, claimed the lives of 19 people in Beijing's suburban Daxing district on Nov 18.
There can be no doubt such a campaign is necessary, but what has been done in some areas has sparked a public outcry because the swiftness with which people were asked to leave their homes in buildings deemed a risk seemed harsh.
What Cai said at the meeting will be reassuring as it is a positive response to the criticism of the campaign by someone who was himself an influential opinion leader on social media and knows the importance of keeping the public properly informed.
A lot of problems and difficulties will have been encountered by the law enforcers no matter how well planned the safety campaign has been, as some of those who needed to be evacuated from dwellings with safety hazards will have been reluctant to be moved.
The authorities should have given the residents more time to relocate, as Cai said, and the inspection should have been carried out in a more orderly way.
Of course, it will be impossible for the campaign to be carried out to the satisfaction of all those having to vacate the premises where the live, even though it is for their own safety. But if enough is done to help those who find themselves in difficulties as a result, whether by providing temporary accommodation or train tickets home, there is no reason why this indispensible campaign cannot proceed smoothly with the public's blessing.
It is hoped that Cai's words will help ensure law-based governance and put an end to all the controversy.