Stringent approval procedure needed for medical research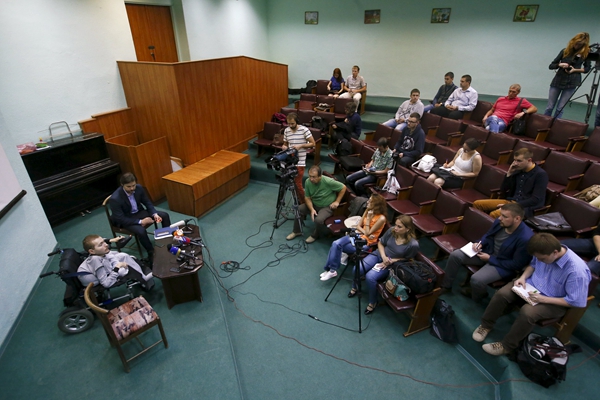 Valery Spiridonov, the man who has volunteered to be the first person to undergo a head transplant, attends a news conference in Vladimir, Russia, June 25, 2015. The 30-year-old Russian, who has a degenerative muscle condition known as Werdnig-Hoffman, will be operated upon by Italian neurosurgeon Dr. Sergio Canavero who believes he has a 90 percent chance of success. [Photo/Agencies]
REPORTS SAY THAT a team led by Professor Ren Xiaoping from Harbin Medical University successfully performed the first human head transplant on a corpse on Friday. Cjn.cn comments:
Ren and his colleague, Italian surgeon Sergio Canavero, have announced the operation was a success. However, just as Ren himself admitted in a later interview, there is no standard for the "success" of such an operation.
Besides, many doctors and medical professionals said they have only reconnected the severed blood vessels, tissues and nerves. There is no way to test whether signals or blood can pass through the re-connected channels.
More important, the idea of head transplants has met fierce opposition in the West because of the ethical dilemmas it poses. In many Western countries, such head transplants, even if done on corpses, must pass a review by ethical commissions to get approval. Yet the operation has already been done in China and we have no idea whether any approval was sought and given.
Canavero said their next step is to do head transplants on living humans. That should arouse our attention. We hope the medical authorities will review this plan.
Some research programs that meet complicated legal, ethical, and moral obstacles overseas often prefer to do their tests in China, because the supervision here is not as strict.
Science needs tolerance in order to make progress. However, before doing such procedures, we need strict evaluations to make sure they do not cross the moral and ethical bottom lines.
A good example of this is cloning. Scientists have long successfully cloned sheep and cows, but it remains a forbidden zone to clone humans. Head transplants, if done on living humans, present identity dilemmas.