Right for feasibility of cities' subway plans to be assessed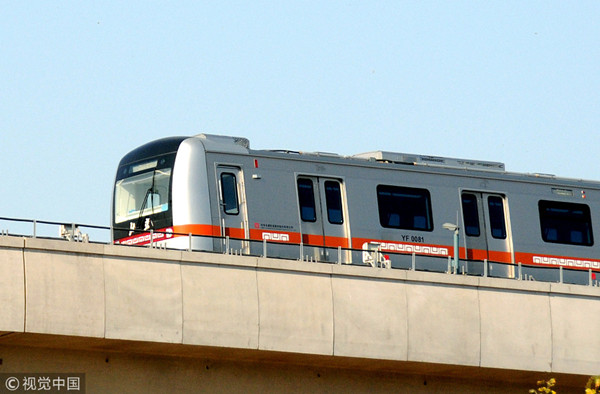 A driverless subway train of the Yanfang Line undergoes a test run in Beijing on Nov 15, 2017. [Photo/VCG]
THE NATIONAL DEVELOPMENT AND REFORM COMMISSION, China's top economic policy planner, vetoed the planned construction of a subway in a provincial capital in the west of China recently. Southern Metropolis Daily comments:
The NDRC approved a host of subway construction plans submitted by the local governments, mostly provincial capitals and municipalities, in 2012 and 2013, which were worth about 1 trillion yuan ($150.68 billion) in total. It is estimated that the overall investment in subway construction nationwide from 2014 to 2020 might be 2.5 trillion yuan.
Now some third-and fourth-tier cities also hope to build subways, even if buses are already sufficient to meet the demands of public transport in those cities. What the city governments value most is the huge investment, which can effectively boost local economic growth-an important factor in assessing local officials' performance.
As long as the NDRC approves their proposals, the cities can obtain financial support from both the provincial government and the central government, and they are entitled to get loans to finish a subway project in time, which means, in effect, they can borrow money to ensure local economic growth.
The subway construction projects usually last several years and the land along the subway lines will have more added value and can thus be sold at higher prices, directly fattening a local government's coffers.
Approval from the central authorities means that the city government officials, especially those of medium-and small-sized cities, may enjoy a much easier time during their term in office, since the city's economic growth over that period of time is almost guaranteed.
What these officials ignore, perhaps not intentionally, is a subway, in most cases, entails huge amounts of lasting government subsidies after it comes into operation.
Many of the governments of small cities harboring a subway dream actually face great debt pressures. And building a subway system will only increase their financial burden.
Thus the NDRC's prudence in assessing the subway construction plans of local authorities is not only reasonable but, more importantly, necessary.