China and ASEAN can safeguard stability in South China Sea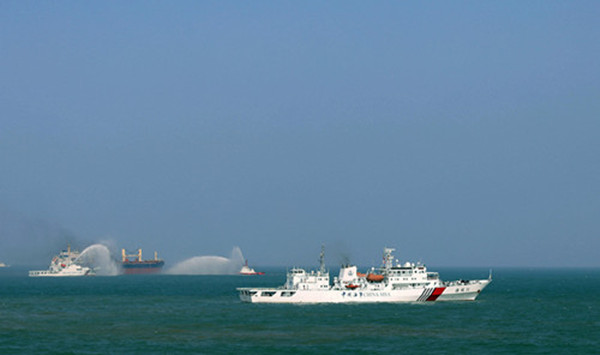 A joint maritime search and rescue exercise is held by China and ASEAN member states in Zhanjiang on Oct 31. [Photo provided to chinadaily.com.cn]
Developments over the past few days reveal the broadening consensus among the members of the Association of Southeast Asian Nations and China that they, and they alone, are ones who should get their maritime house in order, and they are fully capable of doing so.
Just hours after US President Donald Trump recommended himself to his Vietnamese host as "a very good mediator and arbitrator" for the South China Sea disputes, Xi Jinping, general secretary of the Communist Party of China Central Committee, and his Vietnamese counterpart reached a consensus on appropriately managing the two neighbors' maritime disputes.
And Premier Li Keqiang announced on Monday that China and the members of ASEAN will officially start negotiations on their planned Code of Conduct in the South China Sea. Agreement on this would provide a means of securing a peaceful external environment for the development of all countries in the neighborhood.
As Philippine President Rodrigo Duterte stated in his characteristic forthright manner on Sunday, the members of ASEAN and China "have to be friends" despite the attempts of "other hotheads" that want to provoke trouble.
The South China Sea disputes, which involve China and some ASEAN members, have existed for decades, but approached boiling point last year because of the instigations by some countries outside the region, particularly the United States and Japan, to create divisions within the bloc and with China.
Their scaremongering about an expansionist, aggressive China flexing its military muscles and seeking to "control" the vital waterway provoked unfounded fears that this was indeed the case.
The calm that has prevailed is the result of Beijing's painstaking endeavors to explain its intentions and reassure its neighbors that it does not seek to restrict free passage in the busy waterway or pursue development at their expense, but rather seeks to expand the convergence of interests with them and promote greater cooperation for the benefit of all.
That Xi, as president of China, is paying state visits to Vietnam and Laos besides attending the APEC forum, and Premier Li Keqiang is paying a formal visit to the Philippines after attending the ASEAN summit, are unmistakable signs of the importance China places on good neighborly relations, and the commitment the country is making to its established principles of amity and sincerity in its relations with its neighbors.
As Duterte said, no one in the region wants war and can ill-afford any violent confrontation. To ensure such a disastrous scenario does not materialize, the improvement in the situation should not be taken for granted, and all parties should work together to avoid any miscalculation that might resurrect tensions.