China, ASEAN launch joint maritime search and rescue exercise
(chinadaily.com.cn) Updated: 2017-11-01
A joint maritime search and rescue exercise held by China and ASEAN (Association of Southeast Asian Nations) member states was held in Zhanjiang on Oct 31, in a bid to deepen cooperation in maritime search and rescue between the two parties.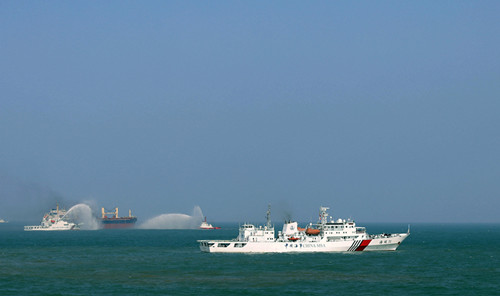 A joint maritime search and rescue exercise is held by China and ASEAN member states in Zhanjiang on Oct 31. [Photo provided to chinadaily.com.cn]
Hosted by China Maritime Search and Rescue Centre, the exercise not only involved 16 domestic organizations in maritime affairs, ocean, coast guard and marine salvage, but marine forces from Thailand, Philippines, Cambodia, Burma, Laos and Brunei.
In addition to about 1,000 participants, 20 ships and three planes were engaged in the event, making it the largest joint maritime search and rescue exercise between China and ASEAN ever held.
Stimulated was a scene involving a Chinese passenger liner "Magic" colliding with a Cambodian cargo vessel "Jupiter", 10 nautical miles east of Nansan Island, which causes a massive leak of the former and poses life-threatening danger to passengers on board.
With 29 people falling into the water, 328 waiting to be transferred and eight injuries, the exercise covered maritime and air rescue, marine firefighting, marine leak stoppage, personnel transfer medical assistance and underwater exploration.
Large-scale and cross-regional marine accidents often take place in sudden inclement weather, which makes maritime rescues even more difficult. A quick and efficient response to such emergencies is expected to be achieved via the rescue exercise and enhanced cooperation between countries.