Everyone should say no to driving after drinking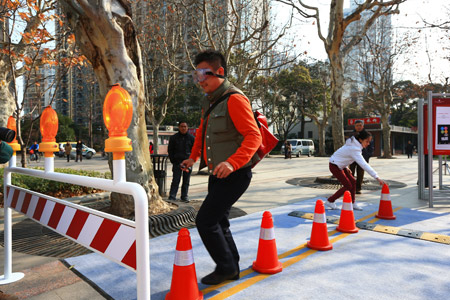 People take part in drink-driving simulation games at the Huaihai Park in Shanghai on December 25, 2012 in an activity to raise public awareness of the dangers of drink-driving. [Provided to China Daily]
LANG YONGCHUN, a former news anchor at China Central Television who is well-known nationwide, was reportedly involved in a traffic accident on Oct 5. He has been charged with drunken driving and will appear in court soon. Thepaper.cn comments:
Lang is quite a celebrity and had long kept a positive public image. Yet being criminally detained for drunken driving has ruined everything for him. If found guilty, his driving license will be confiscated and he will have to pay a fine, he could also be detained for up to six months.
Lang's case should teach not only him, but also others lessons. Driving under the influence of alcohol is illegal, yet so many people do it in our society. A major cause of this is the deeply rooted attitude toward liquor. People equate drinking more liquor to being hospitable and friendly to each other, so they tend to ply each other with liquor when socializing. Besides, many tend to over-trust their luck and driving skills so they simply drive home after drinking.
In order to change this, the first solution lies in strengthening the rule of law, so that people won't try their luck by driving after drinking. But, we as ordinary citizens must also review our own behavior and root obedience to the law in our hearts. Those caught drunken driving, be they celebrities or ordinary residents, are typical examples of failing to take the law as the guiding principle for their behavior.
In other words, it requires the joint efforts of all to put a stop to drunken driving. Everyone must take action by refusing to drive after drinking.