Beijing — One of the easiest places to have a comfortable life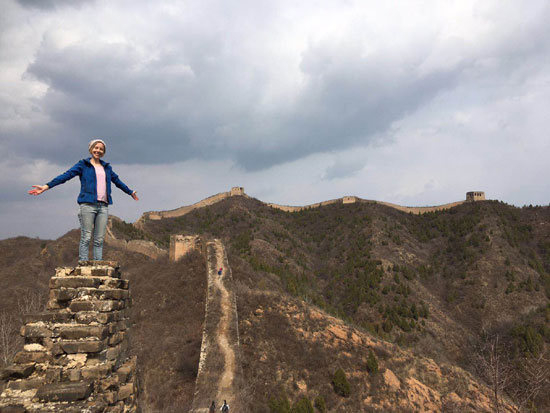 Rosemary Bolger poses at a section of the Great Wall. [Photo provided to chinadaily.com.cn] 
People that haven't visited China often consider it an intimidating place to travel, let alone live, as a foreigner. "Why China?" everyone asked when I announced I was moving to Beijing last year. It's not a question asked of those who move to London or Paris. Diplomatic staff members get extra pay and perks to take a posting in Beijing. Living in China also looks good on your resume; employers assume that if you have the skills to survive in China, you can do anything. While I'm happy to take the questions and the extra credit, it hardly feels justified these days as China becomes more open and continues to make huge progress.
In reality, Beijing has become one of the easiest places to lead a comfortable life. One of the first Chinese words I learned was fanbian, meaning convenient. It could be applied to so many aspects of Beijing's day-to-day life, from getting around to splitting the bill. Certainly, the language barrier makes things difficult initially. But even that is changing as more Chinese people study English and travel overseas. I was twice asked to "tutor" different toddlers within my first month - their parents eager to expose them to English at a young age to ensure they mastered it by the time they were teenagers. The language barrier, particularly in the major cities, is crumbling and will be gone within a generation.
The more fanbian aspects of life in China are even more obvious once you leave. After growing accustomed to paying for everything on my phone thanks to China's amazingly user-friendly e-commerce systems, it feels like going back in time to rely on cash and card once again. Last month, banks announced they would soon allow same-day money transfers – something China's been doing for years!
Since experiencing China's metro subways, waiting 10 minutes for a city train in peak hour is agonizing. It does not help to realize that three or four trains in Beijing would have departed in the time you've been stuck on the platform. The subway is not the only form of transport that makes the big cities so livable. The plethora of clever and colorful share bikes has not only changed the streetscape, but has transformed people's traveling habits. They are easy to use and quickly became one of the most enjoyable parts of life. Again I have that sense of going backwards as I return to pounding the pavement or driving a car.
The success of share bikes and e-commerce is of course due in huge parts to their brilliant design and good marketing. But similar schemes are struggling in other parts of the world. The same share bikes adopted by millions in China have been shunned in Australia with more trivial complainants than customers. This shows that a key reason for China's progress has been down to people's willingness to embrace change and new things. It's a refreshing attitude that has enabled the country's entrepreneurs to thrive. The words innovation and entrepreneurship are perhaps a little worn out in the Chinese press, but their repetition is not without justification.
Change is not only obvious in the tech sector. When I came to China, I had braced myself for a concrete jungle. One Tasmanian nature-lover told me gravely that she'd heard no bird sounds in Beijing. I was able to report back that not only are birds alive and chirping rather loudly in the trees outside my city apartment, there is a growing appreciation for bird watching. Not only are there canal-side parks, there are far more natural wonders around the country than I had time to visit. A former colleague bought her first pair of hiking boots this year. She's part of a fledgling hiking scene as more Chinese people develop an appreciation for nature. It's a significant shift from the previous approach to making progress at any price. Now, more efforts are being made to protect the environment through regulating industries, while the government tackles huge environmental problems with gusto. As other countries let petty politics derail action on climate change, China announced in January it would spend 2.5 trillion yuan ($367 billion) on renewable energy by 2020.
These are the signs of progress and change I noticed in just under a year in Beijing. I can't wait to return and see what else is new.