Clear signal the government supports entrepreneurship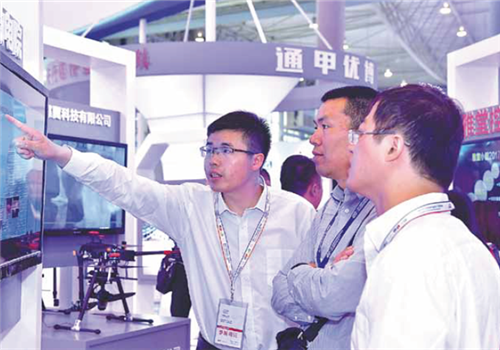 Visitors at a startup programme of the 2017 Global Innovation and Entrepreneurship Fair in Chengdu. [Photos provided to China Daily]
On Monday, the Communist Party of China Central Committee and the State Council jointly released the first guideline to promote the innovation of entrepreneurs and start-ups, which are a driving force for development.
Studies show that the main motivation and impetus of entrepreneurs in starting their own businesses is to pursue their own ideas and gain financial returns. They are strongly motivated to pursue innovation and reform, and are willing to takes risks to realize their goals.
That doesn't mean they are unwilling to cooperate with others or difficult to work with, or their endeavors to be hindered, rather it means they seek to shake off of unnecessary constraints that may prevent them from achieving their goals.
To support them in their pursuit of innovation, a healthy environment conducive to their endeavors should be created. This requires the law and the authorities to strengthen protection of entrepreneurs' property rights and wealth security. The document clearly sets out the establishment of a legal environment that can protect entrepreneurs' rights, a market environment that promotes fair competition, as well as a social atmosphere that respects and inspires entrepreneurship.
The document also calls for the establishment of a compensation and remedy mechanism for losses suffered because of the adjusting of government policies and plans. Such a mechanism would also be conducive to reducing unnecessary administrative intervention in the market and research endeavors, and would be in line with "allowing the market to play a decisive role in distribution of resources".
The document pays great attention to protecting entrepreneurs' legal rights, such as guaranteeing the right of entrepreneurs to voluntarily join or withdraw from industry and trade associations. Entrepreneurs in turn should shoulder their social responsibilities, but not the unreasonable burdens imposed by some industry organizations.
In terms of the construction of a supportive environment, the document proposes that the government should take more responsibility, which is in accordance with the construction of service-oriented government.
Entrepreneurs are important participants in economic activities, but they should not become a special or even privileged group. They should be the navigators for China's economic development, the main force for the development of China's green economy, and help advance sustainable development and the national development strategy.
To cultivate entrepreneurship, we should be tolerant of mistakes and establish an assistance mechanism. Anyone starting a new business with limited resources faces many uncertainties and risks. Mistakes and failures during the process of development are unavoidable, and so should be tolerated by the authorities.
If the innovations don't violate laws and regulations, don't involve illicit transfers of benefits and don't undermine social interests, the authorities can be tolerant of the failures and mistakes of new innovations and their development process. This will not only encourage and promote innovation and reform, but also transform mistakes and failures into the valuable lessons for the future.
President Xi Jinping once said that deepening reform in an all-round way should boost market vitality, and market vitality stems from people, especially entrepreneurs and entrepreneurship. After the launch of reform and opening-up, China has made great achievements in the construction of a modern corporate system and produced innovative products and technology. The newly released document delivers a clear signal to the public that the government wants to carrying forward entrepreneurship, which is of great significance to encouraging innovation throughout every aspect of society.
The author is the dean of Business School, Nankai University