US wrongly targets investment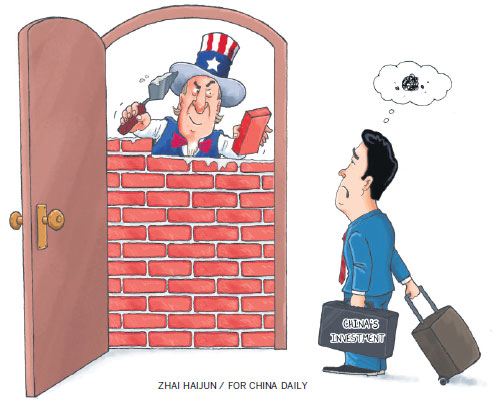 As a report by the US Treasury Department confirmed on Wednesday, a growing number of Chinese bids to acquire US companies have fallen prey to US government reviews on the grounds of national security concerns.
The bid by Chinese-backed private equity company Canyon Bridge to buy US chipmaker Lattice Semiconductor Corp was the latest to fall foul of such a claim, with the US president putting a stop to the deal despite the fact that Lattice has not had any business deals with the US military since 2012, according to Ray Bingham, a partner of Canyon Bridge.
The blocking of the deal has rightly aroused concerns about US protectionism and led some to say it is being "penny wise, but pound foolish".
It is the legitimate right of the US to properly review trade and investment deals to safeguard its national security, but that right should not be misused as a means to protect its industries, especially cutting-edge ones.
The increasing targeting of China-related investments may help partisan politicians win over unknowledgeable voters, but it disrupts normal business transactions, undermines international investor confidence, and seriously jeopardizes China-US trade and investment relations.
It is thus both shortsighted and self-harming for the US to target Chinese investments in this way, as it only backfires on itself.
Chinese investment in the US, which has been growing rapidly, helps boost the vitality of the US economy, creates jobs and boosts tax revenues.
Chinese-owned companies, for example, now employ more than 140,000 Americans nationwide, nine times as many as in 2009, according to the report by the National Committee on US-China Relations and Rhodium Group.
One company seeking to acquire another is a normal market practice, and a Chinese company's bid to acquire a US company should be treated objectively and fairly, like any other.
Politicizing Chinese investments for short-term interests makes neither economic nor political sense for the US in the long run.