Ambassador speaks out on issues affecting Americans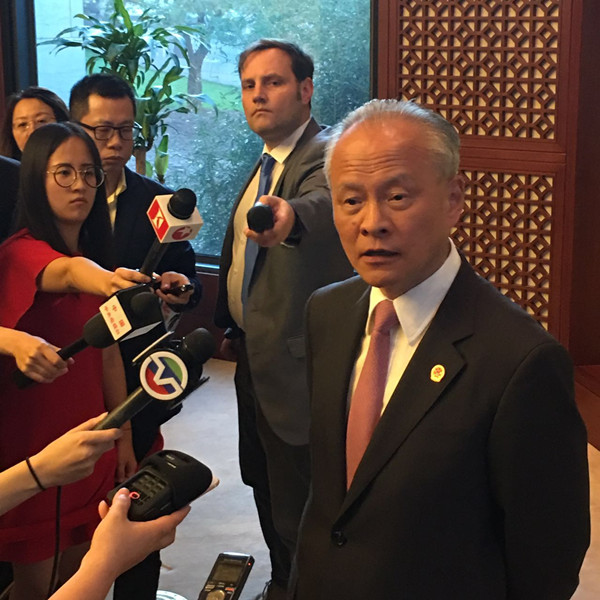 Chinese Ambassador to the US Cui Tiankai. [Photo by Zhang Yu'an/chinadaily.com.cn]
An ambassador rarely speaks for the people of the foreign country where he or she is posted. However, I've heard China's Washington envoy Cui Tiankai speak for the Americans at least twice recently.
On both occasions, he spoke out to counter the rhetoric that threatens to undermine Sino-US trade, even derail bilateral relations, which could harm the interests of the people in both countries.
Cui's first retort came two months ago at a meeting of US governors. The parley followed some ups and downs in China-US relations in the first half of this year, including Washington's decision to impose high "punitive" tariffs on Chinese goods that smacked of protectionism.
Problems in China-US relations mostly come from the federal government, but it is always the US states which end up footing the bill, Cui said at an event that was part of the US National Governors Association's meeting in Providence, Rhode Island, on July 13.
And as it always happens, ultimately the workers, entrepreneurs and overseas students in the US suffer. "This is unfair to them," Cui said. "Congressmen should be very clear about what their voters' needs are, and should know better how to fulfill their obligations to the people in their constituencies."
To understand the extent to which the economic relations between the world's two largest powers are intermingled, one only needs to know that Chinese enterprises have invested in every US state and almost all congressional districts, mostly in the manufacturing sector, and thus helped create 141,000 jobs for Americans.
Overall, the China-US trade volume increased from $2.5 billion in 1979 when the two countries established diplomatic relations, to $524.3 billion last year.
Cui expressed his concerns for the second time last weekend at the Chinese embassy when he was asked to comment on the so-called "secondary sanctions" on China.
Earlier this month, US President Donald Trump said in his tweet Washington is considering "stopping all trade with any country doing business with North Korea".
And on Sunday, US Senator Tom Cotton, a Trump ally, talked about "putting pressure on China" again.
Cui said that if someone were to pressure China or impose sanctions on China over the DPRK's repeated missile tests, such an attempt would be "off-target", and it would probably not be supported even by many US citizens. "Workers at US airplane factories, farmers growing soybeans, companies that sell smartphones in China, manufacturers that enjoy large market shares in China, companies in the service sector that have gained trade surplus in China, US states that engage in robust trade with China would all stand against it," the Chinese ambassador said on Sept 15.
China and the US have benefited tremendously from bilateral trade. And people in both countries have the right to reap benefits from a good China-US relationship. Such a right should not be impaired by any means.
Three months ago, I attended a US-China think tank symposium in Des Moines, Iowa, where I got hold of some telling figures and heard anecdotes about bilateral relations.
Last year, General Motors sold 3.87 million automobiles in China, or one car every eight seconds, Hong Lei, China's consul general posted in Chicago, told the symposium on June 12. And McDonald's, which boasts of at least 2,200 stores in China, sells 1,600 hamburgers every minute.
In a visit to the Des Moines-based Principle Financial Group, Hong met the company's president, Dan Houston, who told Hong that by 2030, the world's GDP will be equally distributed among China, the US and the rest of the world.
"He asked me where should he go as a multinational enterprise if he did not go to China?" Hong said. Which shows Cui has addressed the concerns of Houston and his peers.
The author is deputy editor-in-chief of China Daily USA. huanxinzhao@chinadailyusa.