Right move toward shift to clean energy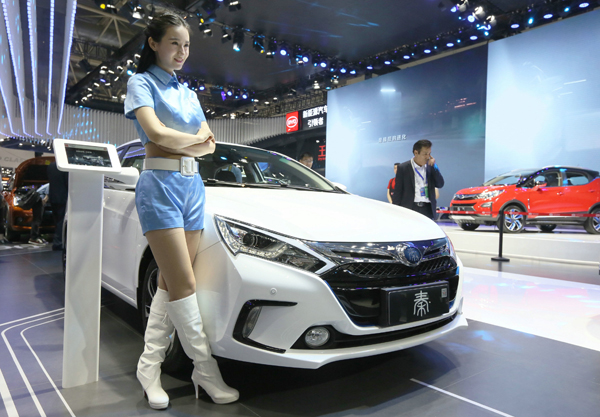 A model stands beside a BYD car at an auto expo in Beijing. A JING/FOR CHINA DAILY
Editor's note: China's plan to promote ethanol-powered vehicles and electric cars will not only reduce air pollution but also have a far-reaching impact on the auto industry, both at home and abroad. Four experts share their views with China Daily's Wu Zheyu. Excerpts follow:
A move to adjust energy structure

Shuai Shijin, a professor in the Department of Automotive Engineering, Tsinghua University [Photo/China Daily]
The National Development and Reform Commission and other 14 ministerial-level departments issued a document recently saying gas mixed with ethanol will be used to fuel vehicles across China by 2020.
Almost simultaneously, the vice-minister of Industry and Information Technology said China is planning to ban gasoline-and diesel-powered cars and replace them with electric vehicles or new energy vehicles in the future. New energy vehicles here mean electric and hybrid-electric vehicles, which have been welcomed by people around the world.
The two announcements show the government's determination to make the auto industry as environmentally friendly as possible.
The gas-ethanol mix is being used to fuel cars in many cities of North China since 2006. Now, the new government plan will make it easier to clear the old stocks of grains, because mostly such grains are used to make ethanol.
The plan has a long-term goal, as ethanol, or ethyl alcohol, is high in oxygen content and thus highly combustible, and if used to fuel cars, it could reduce their carbon emissions.
Fuel consumption will not increase

Wu Ye, a professor at the School of Environment, Tsinghua University [Photo/China Daily]
It's a misunderstanding that ethanol-powered cars consume more energy. In the past two years our laboratory has tested 10 vehicles more than 100 times, and our conclusion has been the same as that of authoritative US institutions that tested 16 vehicles: E10, or a 90:10 gas-ethanol mix, and ordinary gasoline have almost the same energy efficiency.
To make the gas-ethanol mix conform to the national V and VI emission standard for pure gasoline, the ethanol component has to be adjusted. So consumers don't need to worry about spending more on fuel once ethanol-powered vehicles fill the market.